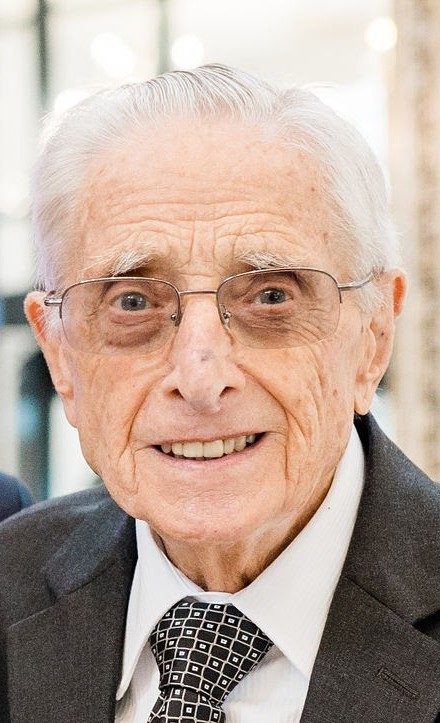 Surrounded by his loving family, it is with heavy hearts that we announce the passing of Gregory Frosina on September 30th, 2023, in his 89th year. Beloved husband, friend and soulmate of Sharron (nee Ward) for 57 years. Loving and devoted father of Joanne (Marty), Cathy, Teresa (Kevin) and Joseph (Shannon). Papa adored his grandchildren Nora, Jack, Ryan and Sara. Forever reunited with his parents, Giuseppe and Giovanna Frosina and his in-laws, Edward and Florence Ward. Predeceased by his brother Antonio Salvatore (1938). Survived by his sister Melina (late Vince Alfano), Carmen (Carolyn), Sam (Luci), and his brother-in-law Ted. He will be deeply missed by his many nieces, nephews, cousins and friends in Canada and abroad.
Family and faith were foremost in Greg's life. Devoted parishioner of Canadian Martyrs Church for 57 years and a choir member for over 50 years.
Greg took much pride in his home and garden. He enjoyed classical music, opera and sports, especially the Hamilton Tiger-Cats.
Our family would like to extend our sincerest gratitude and appreciation to all the staff who cared for Greg at Juravinski Hospital, especially the staff on F3 for their dedication and compassionate care.
We are also grateful to the many doctors who assisted him over the years which enabled Greg to embrace and enjoy his family and welcome his grandchildren.
Visitation at Turner Family Funeral Home, 53 Main Street, Dundas, ON from 3pm to 7pm on Friday, October 6th. Vigil Prayers at 6:15pm.
A funeral mass will be celebrated at Canadian Martyrs Church on Saturday, October 7th at 10 am. Interment to follow at Holy Sepulchre Cemetery.
In lieu of flowers, donations to Juravinski Hospital, the Firestone Institute for Respiratory Health at St. Joseph's Hospital, or a charity of your choice would be appreciated by the family.
GOD'S GARDEN
God looked around His Garden and found an empty place.
He then looked down upon His earth and saw your loving face.
He put his arms around you and lifted you to rest.
His garden must be beautiful, He only takes the best.
He knew that you were suffering, He knew you were in pain.
He knew that you would never get well on earth again.
He saw your path was difficult, He closed your tired eyes.
He whispered to you "Peace be Thine" and gave you wings to fly.
When we saw you sleeping so calm and free of pain,
We would not wish you back to earth to suffer once again.
You have left us precious memories, your love will be our guide,
You live on through your children, you are always by our side.
It broke our hearts to lose you, but you did not go alone.
For part of us went with you, on the day God called you home.