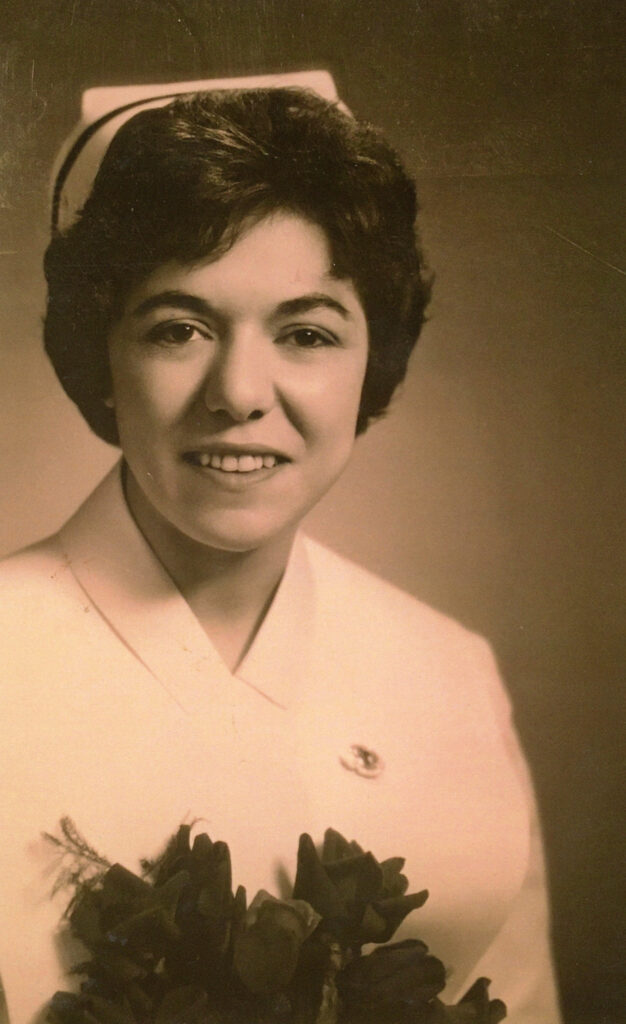 It is with great sadness that Donna Marie Campanelli (nee Nardella), our cherished wife, mother, nonna, sister, and friend, left this world into the arms of God on February 18, 2023, in Hamilton, Ontario. She passed away peacefully, surrounded by her loving family. She was predeceased by her husband and the love of her life, Joseph. Donna Marie is lovingly remembered by her three children, Michael (Jari), Mary Ann (Greg), and Paul and her four adored grandchildren, Maya, Jude, Sophia and Leah. Daughter of the late Lorenzo and Gaetana, survived by her siblings, Madeleine, Larry, Linda, and Rosemary and the late Louise, John, Loretta, and Joe.
Being a mother and grandmother was her greatest joy in life. Her love of life could be caught in the sparkle in her eye when dancing with her grandchildren.
Donna Marie was born on June 6th, 1938. Graduating in 1961 as a registered nurse from St. Joseph's School of Nursing in Hamilton. Donna Marie travelled and worked in south Texas before returning to Dundas to start a family and enjoy a 35+ year career.
Donna Marie had the remarkable ability to strike up an animated conversation with those she had just met and lifelong friends alike. You could always expect a captivating and kind conversation. She loved to travel, journeying to many corners of the earth, exploring exotic foods and cultures; before it was fashionable, she was always a trendsetter.
Her Catholic faith was ever-present in her life and gave her strength, hope and inspiration. Her faith and capacity to endure adversity with dignity and grace were unsurmountable. She belonged to many prayer groups and always enjoyed her time with friends in faith. She had a special devotion to St. Jude, the Divine Mercy, and Our Lady Undoer of Knots.
She will be celebrated and remembered for her gregarious spirit, kind, loving heart, and positivity in the face of adversity. Her smile could light up a room. She was a tour de force.
Friends will be received by the family on Monday, February 27th from 2-4 and 6-8 p.m. at Turner Family Funeral Home, 53 Main Street, Dundas. A Funeral Mass will be held at 11:00 a.m. on Tuesday, February 28th at St. Augustine's Church, 58 Sydenham Street, Dundas, and celebration of her life to follow. Interment at St. Augustine's Cemetery.