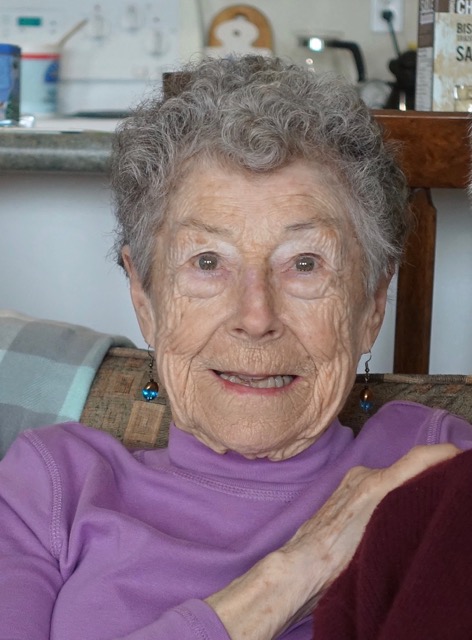 1928 – 2022
Matriarch of the Turner Clan, Katherine was a birder, a dreamer, an environmentalist, a fitness devotee, a lover of the Arctic Coast and its people, a party & safari planner, a philanthropist, a preserver of family lore, a puzzler, a reader, a supporter of the Arts, a teacher, a tree hugger and counter, a walker and long-distance hiker, and a world traveller.
Katherine was the second youngest of the 7 children of Howard & Minnie Turner of Whitevale ON. Her siblings were Ken Turner, Helen Gough, Marjorie Webster, David Turner, Alice Lapp and Bill Turner.
Katherine was much loved and admired by her nieces, nephews and their families. They include Elizabeth Turner, John Turner, Mary Murray, David William Turner (2012), Bob Dempster (2011), Jo Anne Beiler, Ron Webster, Jane Webster, David Sylvester Turner (2013), Bryon Turner, Shawn Turner, Lloyd Turner, Eleanor Hrabi, David Lapp, Wendy Moriarty, Debbie Kilpatrick, Will Turner and Kim Iwamoto.
Distant cousins Lois & Jack MacInnes of Palmerston and Norma & Karsten Hundborg in Denmark became dear friends. Katherine was privileged to be godmother to James Welsh.
Katherine worked to put herself through medical school, graduating in 1957 from The University of Toronto. She joined a general practice in Leaside but soon Alberta beckoned and Katherine accepted a position on the staff at the Dobson Clinic in Grande Prairie. She returned to Ontario in 1971 to study pathology. Katherine was on the staff at St. Joseph's Hospital in London until her retirement in 1992.
Katherine treasured her many dear friends especially Nancy Tuttle, Margrieta Edels, Grace Lumbers (2020), Terry Needham & Marilyn Kertoy, Lavarre Clark, Daisy McCallum and Jackie Lutz. All travelled with Katherine and tried to keep up. She enthusiastically participated in Nature London, the London District Weavers & Spinners guild, Bosom Buddies, fitness classes at The Mount, Senior Alumni lectures, the London Symphonia and live theatre.
Katherine was the loving and devoted partner of Dr. James (Jay) R. Anderson (2022). His children David, James, Ian and Audrey Anderson and their families brought her much joy.
We will miss her love and non-judgemental support. She was affectionate, feisty, generous, frugal, determined and a romantic. Her laughter resonates. She has enriched our lives profoundly. There are so many wonderful memories.
We are grateful to her gentle caregiver Coleen from Home Instead. Katherine received wonderful care from the amazing staff at St. Joseph's Hospice, London.
Katherine's ashes will be scattered on her cottage property in the fall.
For those wanting to make a memorial donation, please consider a charity of your choice or The Nature Conservancy of Canada.