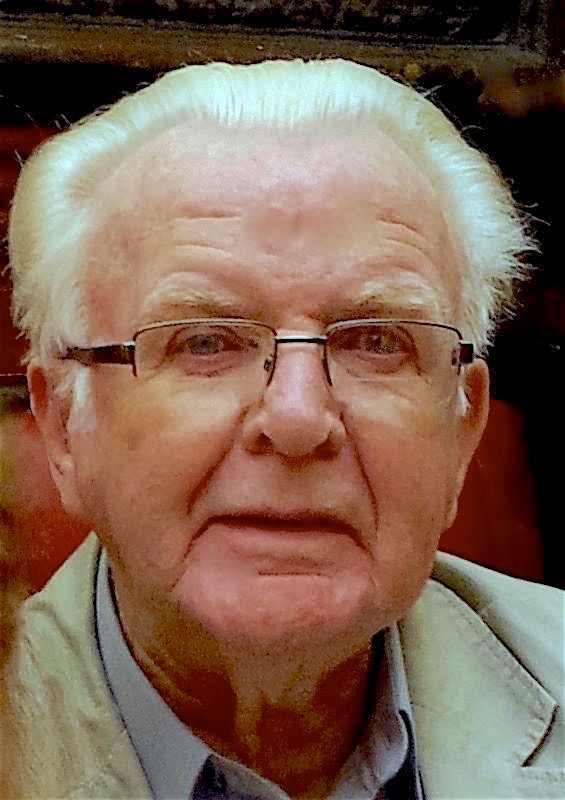 It is with sadness that we, the family of Peter Dawson of Dundas, Ontario, announce that, at the age of 92, Peter passed away peacefully on Tuesday, February 15th, 2022. Prior to his passing, he received exceptional compassionate care at Margaret's Place – St. Joseph's Villa, Dundas.
Peter was born on September 27th, 1929 in Stockton-on-Tees, County Durham, England. On September 28th,1950, just one day after his 21st birthday and with only twenty English pounds in his pocket, he began his new adventure by emigrating to Canada to start the next chapter of his life.
He was initially employed by the Inco and Falconbridge nickel mines in the Sudbury, Ontario area. It was during this time that he met Pauline Derro. They fell in love and were married on October 30th, 1954. Peter was offered employment by Procter & Gamble Inc. in Hamilton, Ontario. He and Pauline settled in Stoney Creek and started a family, complete with sons John, Jeff, and Ken and daughters Angela and Paula.
Peter went on to gain 33 years of management experience with P&G, latterly as Manager and Corporate Coordinator of Environmental activities. Following his line management, he spent 20 years in the human resources field in training organisation development and employer-employee relations.
He chaired the Medical Postgraduate Consultation Committee by the Ministry of Health.
Peter was immensely proud when he represented Canadian employers as a member of the Canadian Delegation to the International Labour Organisation (I.L.O.) Conference at the United Nations in Geneva, Switzerland 5 times. He was assigned as the International Employer Vice-Chairman of the Vocational Rehabilitation Committee. He was assigned as the Deputy Canadian Employer Delegat and was made the Canadian Employer Delegate at the annual I.L.O. conference.
He received an Award of Merit from Mohawk College in Hamilton in recognition of his efforts in the field of industrial training in the community and province. He was appointed a member of the board of governors of Mohawk College and elected Chairman of the Board in 1986-87. Following this, he was appointed a member of the Ontario Council of Regents. He was awarded an Honorary Diploma in Governance and Leadership.
Peter was named a Paul Harris Fellow by the Rotary Foundation of Rotary International.
Sadly, Peter's beloved wife Pauline succumbed to a long term illness and passed away in 1991.
Prior to his retirement in 2000, Peter was the executive advisor of the Dawson Consulting Group Inc.
For 26 years he wintered at Edgewater Village, Florida. He cherished his friendships with his fellow condo owners there and considered them to be his 'second family'.
Late in his life, Peter developed a loving relationship with Ruth Cuming of Stoney Creek. They travelled and spent winters at his condo in Florida. After Ruth's passing in 2009, he remained involved with her family, especially her daughter, Donella, and her family.
Peter is survived by his sons John and Kenneth Dawson, his daughters Angela Dewit and Paula Sarraf, his granddaughter Sarina Sarraf, his great-granddaughter Ava Dewit, his grandsons Jordan Sarraf and Erik Dewit, his daughters-in-law Janice James and Yvonne Lynch, cousin Norman and Brenda Bell, as well as many loving nephews, nieces, and friends.
Peter was preceded in passing by his wife Pauline, his partner Ruth, his second son Jeffrey, and his sons-in-law Esam Sarraf and Fred Dewit.
All through his life, Peter strove to live by one rule that he believed we all need – the Golden Rule.
Peter's remains were cremated. A 'Celebration of Life' ceremony will be held on Friday, May 27th, 2022, 4:00pm to 6:00pm, at the Turner Family Funeral Home Ltd., 53 Main Street, Dundas, Ontario, L9H 2P7. Phone: + 1 (905) 628-6412.
The family requests that any donations in Peter's name be made to the Peter and Pauline Dawson Foundation.

"Golden – a rule to live by." — Peter Dawson, 1929 – 2022