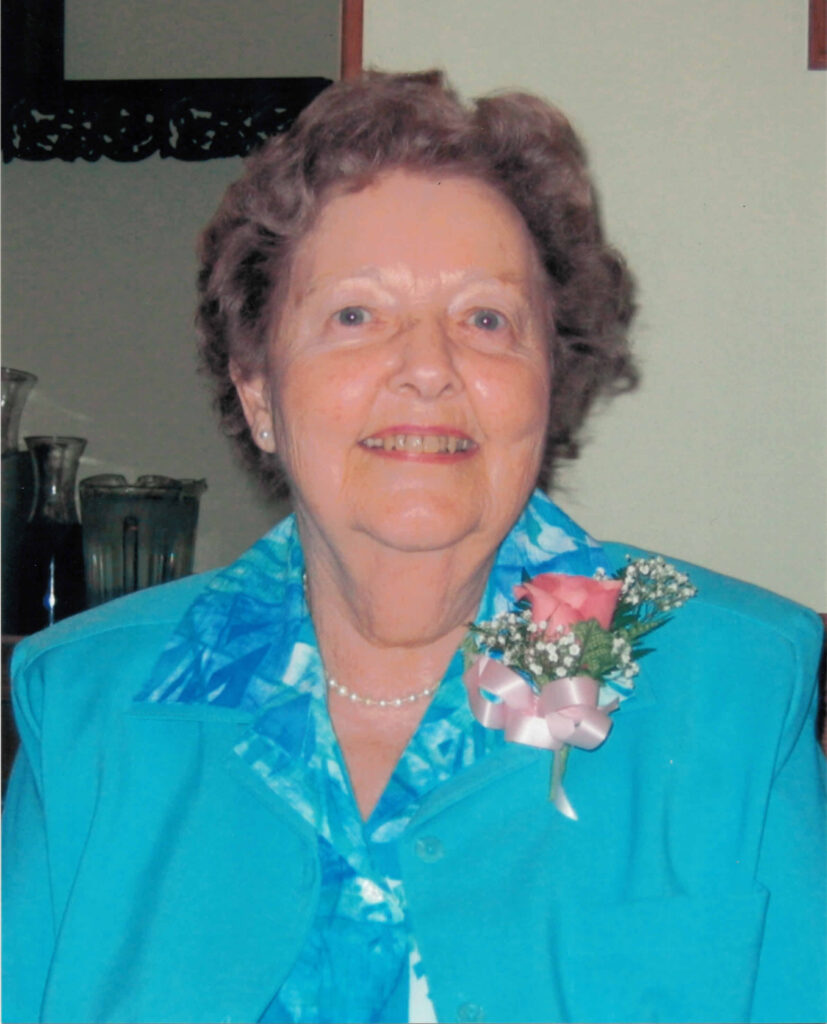 April 29, 1930 – February 2, 2022
With deep sadness, we announce the passing of Helen Elizabeth Wright (nee Tarlton) at her home in Dundas, Ontario, on February 2nd after a brief illness. Left to cherish her memory are her beloved husband of 68 years, Robert J. Wright, her children Nancy Mann (Robert), Anne Wright-Gedcke (Mark) and Carolyn Parker (Jim), her grandchildren Heather (Greg), Ruth (Eric), Richard, Elizabeth, Barbara and Shauna, great-grandson Isaac and her beloved brother Ross Tarlton (Helen Kindree).
Helen was born in Hamilton, Ontario, the firstborn child of Ross and Helen Tarlton. She excelled in academics and completed a B.Sc. in chemistry at McMaster University in 1952. Although science was not a common discipline for a woman in these times, she had a short career as a chemist at Chalk River Laboratories in Chalk River, Ontario. She and Bob met at McMaster, where they enjoyed many dances and attending sporting events together. After her year in Chalk River, Bob and Helen married on August 8, 1953. After spending their first two years in Peterborough, where Bob began his teaching career, they moved to Hamilton, Ontario to be close to extended family.
Helen was very engaged in the life of her young family. She was a marvellous seamstress, and sewed many beautiful clothes for her girls, and several fashionable dresses for herself as well. She was active in the life of Binkley United Church, where she participated in the U.C.W. and their various activities for several decades.
Helen was "adopted into" a love of Muskoka by her beloved Bob. After several summers, they purchased land of their own and supervised the building of their dream cottage, completing much of the work with their own hands. She loved the swimming, boating and the beauty of Muskoka Lake. She and Bob enjoyed spending their summer holidays with their family in this beautiful, natural place. It has become a well-loved vacation spot and continues to be a place for ongoing family connections.
Helen was a person with a wide variety of interests. She was an active curler and an exceptional bridge player and enjoyed the friendships she shared in these activities. Once Bob retired, they shared many wonderful trips together, spanning the globe with their adventures. Helen was fortunate to share special friendships with a group of girlfriends from her primary school. These "Friends for Life" kept in touch even as they scattered across the country, connecting once a year to celebrate their joint birthdays and the joy of their life-long friendships. Helen also had an artistic side. She developed a small business making and selling beautiful silk scarves with Jean, her business partner and friend. In her later years, she developed an interest in watercolour painting and created many original paintings and cards.
Helen suffered her decline in health with much grace. Although back pain limited her mobility, she continued to attend church, concerts, and theatre productions as much as she could. When the time seemed right, Bob and Helen moved to retirement living at Amica in Dundas. Here they both continued to make new friends and connect with others they knew from the West Hamilton community. We are so grateful to the staff at Amica for the amazing support given to Helen in her final days. This was a wonderful gift to our family.
Due to covid restrictions, people are invited to participate in a visitation via Zoom on Tuesday, February 15th from 1:00 to 1:45 p.m. The link for the zoom visitation can be accessed below. A private Memorial Service will be held following the zoom visitation and all are invited to view Helen's Service by clicking on the Livestream link at 2:00 pm., which is also below. Rev. Lee Claus officiating.
To honour Helen's memory, donations to Doctors without Borders or Sleeping Children around the World would be much appreciated. Helen has given us a lifetime of beautiful memories and we are thankful to God for her wonderful life – a life well-lived!
Zoom for Visitation: https://us04web.zoom.us/j/4291916586
Visit by Phone Call: 647-558-0588 (Meeting ID: :429 191 6586#)
Livestream for Service: https://event.forgetmenotceremonies.com/ceremony?c=3812600f-1fc7-47d3-9513-8ddf636df483