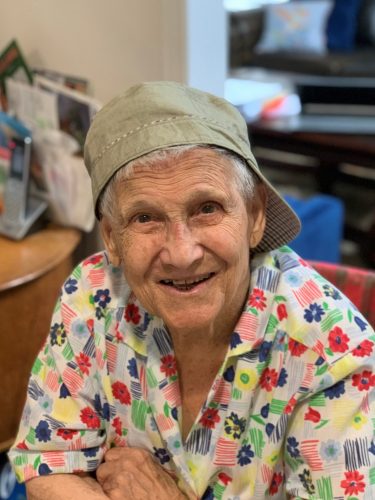 Maria Giovanna Pace stood 4-foot-9 in heels, and she never wore heels.
Despite her diminutive stature, she towered over our family for many of her 92-plus years; her leave-taking from us on Sept. 28 tore a planetary-size hole in our universe. Such a large and constant presence was she at our family table, it is difficult to imagine how we will ever consume another meal, drink a glass of wine, let alone mark a family celebration or milestone, without her.
Depending on your generation, Maria was either Ma or Nonna to pretty much everyone. And loved by all.
One of five siblings born to Caterina and Giuseppe Cristiano, Ma started her life on Aug. 9, 1929 in Castelgrande, a mountaintop village south of Naples in the always sunny province of Potenza. It was there she met the love of her life, Pasquale Pace – Pa – the man with whom she would eventually cross the Atlantic in search of a better life, first in Montreal, later in Red Lake, a small mining town in northern Ontario.
In Red Lake, Ma and Pa, who we lost in 2009, raised six children. (A seventh child, a firstborn son, died in infancy while they were still in Italy.)
For the past 10 years, Ma's home was Dundas, and the Dundas branch of her family was blessed by that decade.
Many are tragically diminished by age, but our family was fortunate beyond words in that Ma was 'with us' until the very end. In August, she held court at her 92nd birthday party, and had everyone in stitches as she sang and joked her way through a warm summer evening. Such a blessing.
Ma is survived by three sisters, Lucia, Vita Maria, Maria, all of Argentina, and her children Vito (Tracy) Pace, Peppi (Karen) Pace, Gerardo (Michelle) Pace and Claudia Pace, all of Red Lake and Vittoria Spinelli and Catherine (Dana) Robbins, both of Dundas. Nonna will be especially missed by grandchildren Aaron, Dana Jr., Jacob, Jessica, Kyle, Nicola, Riley and Taylor and great-grandson Brandon.
A funeral service will take place on Friday, Oct. 1, 2021 at 11:00 a.m. at Turner Family Funeral Home, 53 Main Street, Dundas.
Please register on the funeral home's website – (Links are Below) – if you would like to attend as spots are limited due to COVID-19 spacing requirements.
Alternatively, friends and family can participate remotely by watching the service live online. (Remote participants should register on the Turner website prior to the service to receive an email link.)
To view the livestream: https://event.forgetmenotceremonies.com/ceremony?c=950db25b-55f4-4673-b5d8-14ef9d93d3e4
To Register for the Service: https://signup.com/go/hwCCpxb