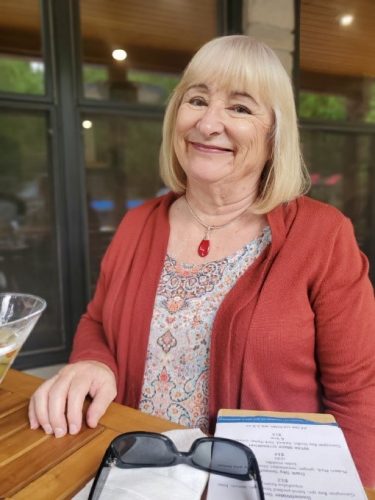 January 6, 1950 – August 16, 2021
Stella left us unexpectedly but peacefully, beside the love of her life in beautiful North Bay, Ontario. It is so difficult to capture the force that was Stella in a few sentences, but here goes.
Stella was the wife of Bill for 48 years – a partnership that anyone recognized as full of love, laughs, and true friendship. She was loving mama and mom-in-law to Jessica and BJ, Gemma and Benjamin, and Rebecca and Joseph. She was the loving daughter of her parents (predeceased), Joseph and Agnes Campbell.

An adored nana to five grandchildren: Mia, Will, Anastasia, Gabriel, and Otis; sister and sister-in-law to Brian (predeceased) and Josephine, Gemma and Joao (predeceased), Lorna (predeceased), John and Laima, Alex and Marina, Joseph and Helen, Paul and Lorraine, Mary and Peter, Mike and Jean, and Martin and Terry; and kick-ass aunt to Karen, Janice, and countless beauties from the Campbell Clan. She had friendships that many are not lucky enough to have, bound by respect, trust and a shared lust for life.

Stella made her mark in more ways than one. People wanted to be with her. She was warm. She was loving. She listened. She enjoyed the little things from a good coffee, to baking for her daughters, to turning her music up to 11, to curling up with a book. She was positive, never complaining about all the crap that life can dole out. She wasn't afraid to say what she thought, but was humble, and never imposed her opinion on others (unless correcting the factual data of a story being told by Bill:). She was a go-to source of reason, and an anchor for her friends and family.

Stella was wiser than they come, and shaped the experiences and learning of family, friends, and students. She really liked teaching young children – a journey she began shortly after arriving in Canada from Scotland at the age of 18. She got such joy from witnessing how little ones behave, think, and go about their day moment to moment. Children in her presence felt safe, secure and loved. She instilled confidence and provided a compass for so many.

Most of all, our Stella led life boldly, on her own terms, truly living it to the fullest. Though she left us too soon, we feel her presence and love all around us. We can only hope to carry her beauty onwards as we move forward in this life.
Darling Stella, in the words of Maya Angelou: "I've learned that people will forget what you said, people will forget what you did, but people will never forget how you made them feel."

In keeping with Stella's wishes, a private celebration of life will be held with close family and friends. In lieu of flowers please consider donating to The Good Shepherd or Food4Kids Hamilton