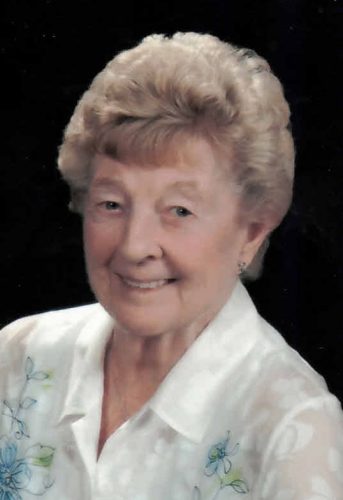 JULY 8,1930 – JULY 9, 2021
On July 6th, Audrie sustained a massive stroke from which there would be no recovery. She died peacefully one day after her 91st birthday at the Hamilton General having received compassionate care.
Audrie was born to Molly and Arthur Robbins on July 8,1930 in Toronto ON. She attended Danforth Technical Secondary School and studied to become a hair dresser. She went on to start her career at Holt Renfrew's beauty salon. Audrie met Robert, a navy veteran, and they had a fun-filled courtship and married on June 30,1951.
Robert was a working partner in the H. Sherlock and Son Plumbing and Heating business and soon Mom became the secretary and bookkeeper of the business.
Mom and Dad grew their family together over the next six years. Bonnie (Rev. Dr. Don) Donaghey, Kenneth (Jane) Sherlock, Barbara (Don) Moreau. As the years passed five grandchildren were added to our family tree Robb, Amy, Lil, Christopher and Leeann and then seven great -grandchildren.
She enjoyed the game of golf especially with her Dad and friends in Myrtle Beach, her winter home. She and Dad were married for 54 years and had a good retirement together.
Mom was an excellent cook and enjoyed entertaining friends in her home. Hospitality was important to both Mom and Dad. Mom even wrote a recipe column in a weekly newspaper and Dad fell victim to the Sherlock "test kitchen".
Mom volunteered for CAS as a driver, made gallons of soup for the "Blessings" dinners at Knox Dundas, and enjoyed photography and cardmaking hobbies. Her home on Newcombe Road became too much for her and she craved the companionship of other active seniors. She moved to the Meadowlands Retirement in Ancaster. Mom loved it there so much! She jumped in with two feet and participated to the max. She became the resident photographer and storyteller for the Sunday morning worship services, and was a very opinionated representative on various committees. Our sincere thanks for the love and care shown to our Mom from ALL Meadowlands staff.
A private family graveside service will be held on July 29, 2021.