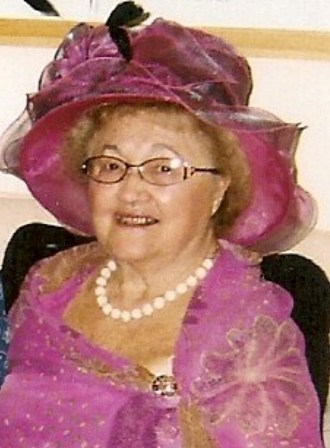 November 17,1925 – March 23, 2021
It is with great sadness that we share the passing of our mother Edna in her 96th year at the General Hospital in Hamilton. One day she was full of life socializing and getting her hair done, and the next she was struck down by a massive stroke.
Edna is predeceased by her husband John, sister Genevieve, and parents John and Katie Petrisor. She is survived by her daughters Marlene (Peter Link), Jane (Stephen Zener) and Betsy, and adoring heartbroken granddaughters Beth (Justin) Kaitlyn, Rachael (Todd) and Emma. Edna is survived by her siblings Florence Brendon, Dr. Allan Petrisor (Mary), Wayne Peterson ( Georgina), Thomas Peterson (Linda) and many loved nieces and nephews. She also leaves behind special friends Mable, Doreen, Roy, Helmut and Renee, and many friends of the Forest Glen community.
Edna was born in Saskatchewan, as was our father. Both their families moved to Hamilton, then to the farming community of Beverly twp. where they met and fell in love.
Our mother loved music and she was deeply committed to her faith. She trained as a singer at Centenary Church and spent many years as a soloist for church services, weddings, conferences and community events. Along with being a devoted mother, she loved her community, with a lifetime commitment to collecting for the Cancer Society, an active member and president of the Westover Women's Institute, Westover Baptist Church and volunteering with the Rockton Fair. When her husband John retired early to take up farming full time in 1974, Edna was asked to use her talent as a cook and baker to cater an event. That turned into a new career as a caterer for the next 20 years for the Copetown Lions meetings and many other local community events and weddings. Both she and our dad loved it! They took it as an opportunity to do a benefit for SHARE Agricultural Foundation, which continued on another 15 + years. Our parents enjoyed a joyous retirement travelling everywhere – Europe, Central America, Israel, Hawaii, Mexico and more. In 2003 they sold the farm and took up the freedom of condo living in west Hamilton, where Mom loved to swim, join in coffee hour, play scrabble and socialize with neighbors.
She danced to her own tune, while we tried to keep up. A life well lived!
A Private Funeral Service will be held at the Turner Family Funeral Home, 53 Main St. Dundas on Monday March 29, 2021 at 2:00 p.m. As numbers are limited due to covid the service will be livestreamed and available ongoing.
Memorial donations may be made to SHARE Agricultural Foundation, Westover Women's Institute or the Westover Baptist Church.
Livestream link: https://event.forgetmenotceremonies.com/ceremony?c=a4de4c7c-f5b7-44fc-a370-b0db49de0646