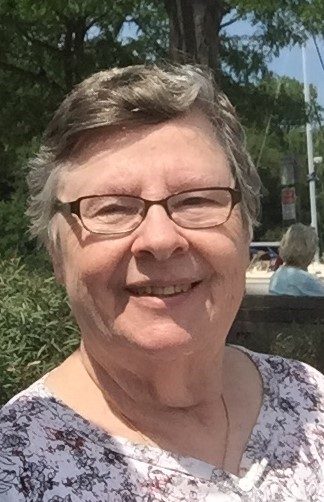 Jean Marie Murray
January 2, 1935 – February 21, 2021
Jean was born to Nellie (Betzner) and Ralph Sheldon Murray of Dundas, Ontario. She was the younger sister to Marguerite. Her early years were spent growing up in Dundas where her father was principal of Central Public School. She had lots of fun with her friend Peggy and cousin Mary-Pat. The family moved briefly to North Bay, Ontario, but returned to Dundas following the death of her father. Jean was a proud teacher for most of her working life focusing on elementary education and later as an ESL teacher. When she started teaching she only needed a certificate, but by the mid seventies she knew that to improve her income and job potential she needed a university degree and attended McMaster part-time while holding down a full time job and being a single mom. One of her proudest moments was getting her bachelor degree.
With her first husband, Walker Coveyduck, they welcomed their son, David Sean, in 1967. She returned to teaching in the Hamilton region until her retirement in 1997. In 1989 she married John Browne and they resided in Oakville until John's passing in 2011. She then returned to her beloved Dundas, where she lived out her golden years. Even while she lived in Oakville she regularly came to Dundas to see friends. Jean volunteered at the Dundas Museum, helping to preserve the town's history of Dundas and that of her family. In 2017, she moved to Amica Dundas, and as her dementia progressed she ultimately moved into the Memory Care area.
Jean loved to read, knit, watercolor paint, listen to music and enjoyed being around her beloved friends and family the most. While David was growing up Jean and her mom would love to take long road trips across Canada and the US to visit family and friends. They had some great adventures!
Jean is survived by her son David Sean Murray (Shelley) of Calgary and their sons Benjamin and Carson; stepdaughter Valerie (George) of Toronto, and their sons Leo and Paul; and stepdaughter Caroline (Bob) of Toronto. Her nieces Julie Port (Dan) of Calgary, Joni (Fred) of Lacey, Washington, and nephew Tom (Gillian) Johnson (Kamloops, B.C.) plus numerous great nieces and nephews, and family members on the Betzner side.
Jean was predeceased by her father Ralph, mother Nellie, sister Marguerite, brother-in-law Bob Johnston and her husband John Browne.
The Family would like to thank Vera and her wonderful Memory Care team, especially Alanah of whom Jean was particularly fond, and Doctor Macaluso for their wonderful care. Lastly, words cannot describe the wonderful friendship and support from Mary Welsh over more than 50 years, especially in the last few as Jean's health declined. Mary was one of mom's longest and dearest friends, and a second-mom to David. Thank you Mary.
A celebration of life is intended once COVID-19 allows us to travel. Cremation has occurred and interment will occur in the family plot in Grove Cemetery. In lieu of flowers please donate to the Donkey Sanctuary in Guelph, Ontario, or the Alzheimer's Society of Canada.