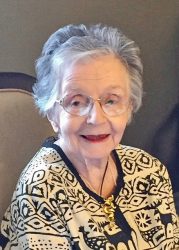 Josephine "Jo" Meeker (Measner)
October 12, 1930 – January 11, 2021
(Professor) Josephine P. Meeker passed away peacefully, of Covid, on Monday, January 11, 2021 at St. Catharine's General Hospital.  Josephine was predeceased by her loving husband and soulmate of fifty years, Donald Measner, who died in May, 2018.  She is survived by her sister Rosemary Walton (Ronald) and her nephew David (Karen) Walton in Hamilton, her niece, Wendy Nelson in Toronto and many nieces and nephews in the United States.
Born in Hamilton in 1930 to William "Bill" Stanley and Edythe Meeker, Josephine was the elder of two daughters.  Her father was active in the Hamilton business community and practiced community pharmacy throughout his lifetime.  Her parents instilled in Josephine a love of the arts and supported her aspirations for high academic achievement.   Her beloved grandmother (and namesake), Esther Josephine Scott, encouraged her to learn to play the piano and by age 4 she was performing at public recitals. During their childhood, Jo accompanied her sister, a talented singer, on piano during concerts at the Hamilton Conservatory of Music and other venues.
Josephine was a proud graduate of the then fledgling McMaster University and earned a Bachelor of Arts Degree in 1953.  Josephine remained actively engaged in the University as a member of the alumni over the years, attending Class Reunions including the most recent 65th Reunion held in 2018.
After McMaster, she began her teaching career at Hill Park Secondary School in Hamilton where she was responsible for the United Nations (UN) Club, chaperoning numerous student trips to Washington and New York and cultivating her passion for intergovernmental and global affairs.
By 1960, Jo had continued her graduate studies in geography at Indiana University and Columbia University in New York City, where she met her future husband, Donald.  During her studies in New York City, she continued her work with the United Nations.  After completing her graduate studies at Columbia, Josephine returned to Canada to continue her teaching and academic career at Brock University in 1965, shortly after the University was established.  Josephine was the first female Faculty member hired by Brock University, an honour she wore with pride.
After returning from work abroad in Turkey, Donald reunited with Josephine and they married at the McMaster University Chapel on June 22, 1968 and settled in Thorold, Ontario.  They enjoyed many years of being geographers together.  Theirs was a 50-year marriage between two true kindred spirits. Their days were filled with joint geography projects and they were avid travellers, both for leisure and academic purposes.  Their historic home was a venue for international students living "in residence", for study groups and lively gatherings where students and faculty joined together with their large cadre of family and friends.  Donald reigned in the kitchen, enjoyed cooking and playing host to their guests.   Josephine sparked engaging conversations and often entertained by playing her beloved grand piano.
Similar to her passionate support of McMaster University, Josephine was proud to dedicate her career to the growth and development of Brock University from 1965 through retirement in 1996.  As a committed academic leader, over the years, Josephine was instrumental in development of Brock's School of Continuing Studies and the Women's Studies Programme.  As well as serving as Professor in the Department of Geography, she was appointed to the University Senate, where she served a term as Chair.  During her time at Brock, she used her skills in geography when appointed as a member of the Niagara Escarpment Commission, working diligently to increase awareness and protection of the Niagara Escarpment.
Josephine was a passionate teacher and mentor, ardently committed to her students and colleagues, with whom she maintained many lifelong friendships.  Ahead of her time, Josephine was a pioneer and trailblazer for women in academia and was extremely proud of her career as a woman geographer.  She was admired by all for her independence, keen intelligence and fierce determination.
Cremation has taken place. Internment of ashes will take place at the Meeker Family Plot in Hamilton Woodland Cemetery as well as at the Measner Family Plot in Farmington, Wisconsin.  There will be a virtual celebration of Josephine's life for students, colleagues, friends and family on Sunday, March 7 at 2 p.m.    To participate, please contact the family via Wendy Nelson  (wnelson@rogers.com) or Karen Walton (karen@thewaltons.ca)
Donations can be made in memory of Josephine Meeker to McMaster University Library (www.givetomcmaster.ca or call directly to 905-525-9140 Ext 24224) or to Brock University (www.brocku.ca/donate).