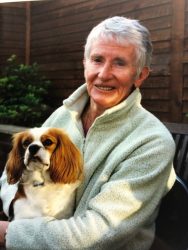 August 4, 1934 to December 25, 2020
Sadly, on Christmas Day, in her 86th year, Nan passed away at St. Joseph's Villa in Dundas, Ontario. Nan will be reunited with her husband and soul mate Stan, who passed away in May 1996. Much loved mother of Martin (Peg) and Linda (Doug) and grandmother of Heather and Thomas, Nan was born and raised in the Bannfoot, Portadown, County Armagh, Northern Ireland. Nan is survived by her sisters Maria, Olive, Myrtle and Eileen and her brother John all of whom reside still, in Northern Ireland.
As a young woman, Nan worked in a sewing factory in Portadown for several years before deciding to move to England to look for work. While there she met Stanley Hunter and in due course they were married and started a family. The next step in their life adventure together was a move to Canada which became permanent except for one short return move back to England. Once settled back in Canada, Stan worked as a structural engineer while Nan focussed on raising the children and maintaining the home along with doing some occasional domestic work outside the home. She was skilled at keeping a spotless and organized home.
After Stan died in 1996 Nan was on her own. A difficult year. In 1997 when her son and his wife decided to move to Canmore, Alberta they asked Nan if she wanted to join them. She responded with a resounding "Yes!" This became a typical response from Nan in the coming years. She was always willing to take that next step if there was someone to take it with her. The three of them lived in Alberta for 5 1/2 years and then moved to Vancouver Island for 8 1/2 years before returning to Ontario to live in Dundas. While living in Alberta and on Vancouver Island Nan did some volunteering in senior's care on the Long Term Care Unit at the Canmore Hospital and at Cairnsmore Place an Extended Care Facility in Duncan, BC. Wherever she went she was fast to make friends. She learned everybody's names and had the gift of being an excellent listener. So many people she befriended described her as sweet and kind.
Nan's stay at St. Joseph's Villa in Dundas began just over 3 1/2 years ago. In that time she managed to build many new relationships with staff and fellow residents. We loved so much how the staff appreciated her for who she was. She was treated with kindness, dignity and respect. As her health deteriorated, they provided gentle, competent support. We will be forever grateful to them for this.
A special mention must be made of Eleanor and Earl Somerville and their daughter Lisa from Portadown, N. Ireland. Eleanor (Nan's niece) and her family took Nan on many trips to Florida and visited her and us in Canada every two years, keeping Nan well connected with her Irish family. Also deserving of special mention for their love and support of Nan are Susan Scriver Kenel and Connie and Len Wickens of Dundas. They entertained her and contributed to her happiness in so very many ways.
Cremation has taken place and Nan will be interred with her husband at Halton Hills Memorial Gardens in Burlington. Hopefully, sometime in 2021 a celebration of life with family and friends can take place. If so desired a donation to the Ontario SPCA or to the Saint Joseph's Villa Foundation in Dundas would be appreciated.