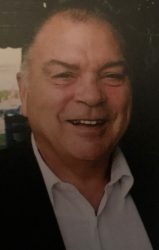 After slowing down over the last few years to a glacial pace, 'Ardy' finally came to a stop late in the evening on January 21.  Arden had suffered a mild heart attack over the holidays and was recovering from bypass surgery, but the underlying conditions were too much to overcome and the recovery and rehab that we were gearing up for was not to be. For his 2 weeks in the hospital, he had the loving services of his 'family' nursing staff, Danielle (& Trevor, Harper & Miley) and Melanie (Nick), his boisterous young adult roughneck grandsons (Tom, Laughlin & Gabriel), and the rest of us; June, Dana (Shari), Darren (Pam) and Steve (Vicki, Malcolm & Claire)
He shared 61 years, and was lovingly cared for in the end by June Patricia, his first and only love. He really did think he was with the best woman in the world!  His 4 sons, had over the years, been a source of adventure (grief!) and given him cause for plenty of pride, although you had to hear about third hand.  It was noticed in his response to a nurse when asked how many sons, it was a firm 4, with memories of #1 son Dave who had passed 17 years ago.  Arden continued through all the family tree research done by his late sister Betty Smith of London, ON and was always thoughtful of his older brother Marvin of Delta, BC.
Arden had a gentle spirit (thanks Chris), and an "oh Grampa!" sense of humour. No joke was too old! "How many o's in Fortinos"?   Arden really wasn't a party guy, having had his first beer at the age of 30 (his father, Baptist Minister Carroll and his mother Grace, both of Manitoulin Island, might have had something to do with that), but did manage to crack a small smile when he heard of # 5 grandchild (Gabriel) coming home staggering with shoes in hand Christmas eve.  He truly enjoyed spending time in his workshop building bird feeders, wooden toys, etc, and keepsake boxes for each grandchildren.
Years ago, we had the ultimate family project of building from the Canadian Shield up (on Lake Wahwashkesh) a boat access cottage: he and June, had the whole thing designed, planned and supplies ordered and then the workforce, family and friends got to it. (He was one of Three Amigos in the north end of Wahwashkesh with friends Don and Frank.) This was after years of camping and canoeing adventures crisscrossing the country.
He was a long term Binkley United Church member, part of the great group of long-term friends & Square Dancers, and sang with The Albertones and The Periscopes (because they're always looking up!).  He taught us how to fix washing machines, lawnmowers and how to wire a live electrical panel.  He funded all this by working 35 years as an Electrician and then Foreman in the Cold Mill at Stelco: which he was glad to do for his family.
Thanks 'Pops" we love you and we will miss you!
Thanks to the dedicated staff of the Cardiac unit and ICU at Hamilton General.
Friends will be received by the family on Monday afternoon and evening 2-4 and 6-8 at the Turner Family Funeral Home, 53 Main Street, Dundas. Funeral at Binkley United Church, Tuesday morning at 11 o'clock, with reception to follow.  Cremation has taken place.