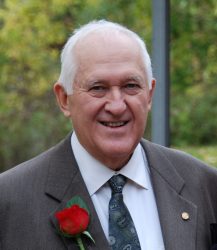 August 20, 1934 – September 25, 2019
It is with much sadness that the family of Bob Cruickshanks announces his passing, Wednesday October 25, 2019. Bob died peacefully after a very short illness. He and Kathleen (Johnstone) were married for almost 63 years. Together they enjoyed a busy life with family and friends travelling to parts near and far until his memories and abilities were sadly and slowly taken away by vascular dementia.
Family was everything to Bob. He will be sorely missed by his brother Paul (Rosemary) and was predeceased by his sister Claudene Stafford (Richard). He was the loving father of Sandra (Tom McCauley), Donald (Sharon), Steven (Kathryn Smithyman), Craig (Marianne) and Timothy (Heather). His grandchildren always enjoyed adventures with him: Iain (Krista Schneider) and Lauren McCauley, Jay (Shawna) Irvine, Tracy (John) McKinnon, Kevin (Sarah) Cruickshanks, Erinn (Mark) Honeycutt, David (Allie) Kanters, Devan and Brody Cruickshanks. Loved grandson Joel Cruickshanks predeceased his grandfather. He was Great Grandpa to Ethan DiSciullo, Alec McKinnon, Emma Honeycutt, Eli Honeycutt, Quinn Cruickshanks and Rose McCauley Schneider.
He started his working life at the Federal Income Tax Department and then to sales with Westinghouse Canada. He was called to teaching where his contributions were honoured throughout the years. During his 32-year career he positively affected the lives of thousands of Hamilton public school students – in the classroom, as a Phys Ed teacher and, finally, as a Guidance Counsellor. He was also a teacher and Co-ordinator of the Hamilton Summer Skills program.
Bob was the life of any party, the spark in so many events, the person who took every opportunity to bring people together. He regularly took the whole family for overnights at hotels for swimming, eating, games and birthday cake. He and Kathleen packed up their three parents (Claude and Verna Cruickshanks and Kathleen Johnstone) to Barbados and driving trips to both Canadian coasts. He oversaw the Cruickshanks Family Reunions for years. He played basketball and volleyball until his knees finally said "stop".
He was born into the Binkley United Church family, was a loyal member of the Landmark/Doric Lodge for more than 50 years, a 10-year volunteer with Ronald McDonald House, and a member of the Hamilton Tiger-Cats Alumni Association due to his career with the Brantford Tigers B football team. A McMaster graduate, he was an active member of the McMaster Alumni Gallery Committee. He volunteered with the Hamilton Wentworth District School Board Archives and the Royal Hamilton Light Infantry Archives. He supported local events by volunteering at track and swim meets as well as the Ford World Curling Championships and the Grey Cup both of which took place in 1996.
The family is grateful for the care he received from the staff of Valley Trail at St. Joseph's Villa since early 2015. They are also thankful to those who supported Bob and Kathleen as his health declined.
Friends and family are invited to Turner Family Funeral Home, 53 Main St, Dundas, on Tuesday, October 1, 2019 from 2-4p.m. & 7-9p.m.. A funeral service will be held at Binkley United Church, 1570 Main St. W., Hamilton, on Wednesday, October 2, 2019 at 11:00a.m.
In honour of Bob's life, you are welcome to consider a donation to the Cruickshanks and Johnstone Family Social Sciences Award at McMaster University, the Michael Johnstone Collection at the Hamilton Public Library or the charity of your choice.