November 19, 1925 – July 1, 2019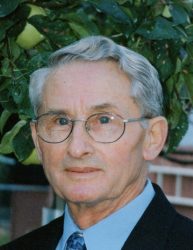 On July 1, 2019, embraced by his loving family, Frank Settimi of Dundas, Ontario, passed away peacefully in his 94th year after a courageous battle. Frank is survived by his beloved wife Adelia (Velenosi).  Loving father of Ann Marie and Angelo Vecchi, Perry and Pieta Settimi.  Most adored Nonno of Lisa and Dave Kowalyk, Julie and Billy Hall, Nicole Settimi, and Cathleen and Aaron Michon.  Proud and cherished Nonno Frank of Anthony, Dylan, Sabrina, and Elena. Frank was born November 19, 1925 to Domenico and Assunta Settimi in Montefortino, Ascoli Piceno, Italy. Frank was oldest of 8 children; dear brother of Mario (deceased) and Maria Settimi, Giuseppe (deceased) and Rita Settimi (Italy), Laurina and Gino (deceased) Latini (Italy), Maria and Emilio (deceased) Cesarini, Pierina and Valentino (deceased) Pascucci, Ruggiero and Annie Settimi, Ottavio and Vincenza Settimi.  Remembered by sisters-in-law Elisa Velenosi and Verniece Anderson-Pay. He served in the Italian Army and later moved to Canada in 1948 where, through mutual friends, he met his beautiful bride and wife of almost 65 years, Adelia (Velenosi) Settimi.  In 1950, Frank began his career with Steetley Industries, whilst building his family with Adelia and raising their adored children, Ann Marie and Perry. Frank loved to spend time and create wonderful memories with his family and friends. He was an avid gardener who grew the most delicious raspberries, created the world's best sausages and wine, and loved taking walks with his beloved cat MJ. We are blessed to have learned so many valuable lessons from Frank during his 93 years of life including how to pick apples the right way, to always wear a wide-brimmed hat in the sun, that dull forks are useless, to only eat corn if it's fresh, to reuse your bread bags, and most of all to take good care of each other. We remember Frank as an independent, well-put together, warrior, who took his greatest pride in his children, grandchildren, and great grandchildren. We take comfort in knowing (as assured by his great granddaughter, Sabrina), that, although we cannot give him hugs and kisses now, Jesus will do it for us. Frank will be missed and forever loved by all those who had the pleasure to know him. Friends will be received by the family on Thursday, July 4, 2019 from 6 p.m. – 8 p.m. at the Turner Family Funeral Home, 53 Main Street, Dundas. Funeral Mass will be held Friday at 12 noon at ST. JOSEPH'S VILLA CHAPEL, 56 Governor's Road. Followed by a reception. Private family interment. If desired, donations on behalf of Frank can be made to Margaret's Place Hospice or St. Joseph's Hospital – Palliative Care. Thank you to all the staff of St. Joseph's Villa and St. Joseph's Hospital for their excellent care of Frank.
Thank you to all the staff of St. Joseph's Villa and St. Joseph's Hospital for their excellent care of Frank.