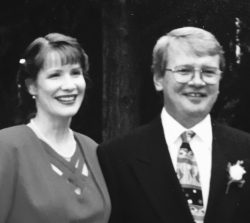 June 13, 1952 – February 8, 2019
Mark died suddenly in the early morning hours of Friday, February 8, despite the best efforts of Hamilton Paramedics, Fire Department and St. Joseph's Hospital.  Mark's wife Kathryn is inconsolable, unable to imagine a world without her beautiful blond haired boy.  Mark was home and doing well following rehabilitation at St. Peter's Hospital after a lengthy stay at the Juravinski Hospital for biliary problems where he (and Kathryn) received outstanding care from Dr.  Pablo Serrano, his wonderful assistant Sharon, and the fabulous ICU and E4 teams.  Kathryn will be forever grateful for their superior skills, compassion and humanity.  Kathryn and Mark were beyond happy that he was finally home, that they were together again, rebuilding their lives.  The shock of Mark's death is deeply felt by all who knew and loved him.
Mark was predeceased by his parents Albert and Jean Nelson and his father-in-law Jim Raycroft.  He is survived by his brothers Rod (Judy), Carl (Pamela) and Tad Nelson, Kathryn's mother Shirley and brother Ian (Francine) Raycroft, nephews and nieces Jenn, Sara, Scott (Kathryn), Brett (Christy) and Caitlin Nelson and Nicholas Raycroft, 8 great-nephews and nieces and Kathryn's aunt and uncle Jean and David McLay.  Mark will be forever missed by his great friends Alex van Nostrand, Emily Andrus, Barbara Evans and Gary Raycroft, best man Brian Ferguson and matron of honour Gwen Spencer, and many friends who treasured his kindness, wit and sense of humour. Cats Rita and Cici are taking good care of Kathryn, and he is now reunited with his favourite cat Rosie and guard cat Susie.
Mark and Kathryn were both born in Hamilton at Mount Hamilton Hospital (now the Juravinski).  Mark grew up in Hamilton, Ancaster, Guelph and Kingston.  They were living in Toronto when they met in 1989 and married in 1995.  They were thrilled to move back home to the best city in the world in 2006, where Mark was able to reconnect with many childhood friends, including George Truman, Cathy Doholis and Doug Waterman.  Mark had a varied career as a Buyer at Grafton Fraser, Inside Sales Rep at Wang (formerly Bull HN Info Systems) and Micro-Alternative Solutions, Funeral Director's Assistant at Humphrey and Ogden Funeral Homes and Business Analyst at Hewlett-Packard.
He loved golf and somehow every time Mark and Kathryn vacationed, there was always a golf course nearby (they married on the 18th hole and honeymooned in Bermuda).  Mark was a gymnast in high school and not too long ago could plank for 20 minutes without tiring.  Who knows how long he could have planked if Kathryn hadn't told him enough already.  Mark loved music, especially Elvis, the Beatles, Gordon Lightfoot and Roy Orbison.  He was a talented artist, guitarist and singer who played and sang in groups as a teen-ager, but who in later years was too modest to let many hear his talents.  Kathryn married Mark because he was such a great cook; he did the cooking and grocery shopping for most of their lives together.  He was an avid crossword puzzle solver and always won when he and Kathryn played card games and scrabble, much to her chagrin.  He enjoyed a good discussion, and he loved to hang out at the West Town with old and new friends.
Kathryn loved Mark for his sharp sense of humour, his beautiful blue eyes and taupe hair (blond in the summer), his elegant, artistic hands, his lovely voice (nickname the mellow bellow), his loyalty, sensitivity, stubbornness, compassion, and intelligence.  Kathryn can't believe he's gone; she was certain they'd be together for many years to come.  It's not the first time she's been wrong (don't tell her that).
Please share your thoughts and memories of Mark with Kathryn, and families and friends at Turner Family Funeral Home, 53 Main Street, Dundas, on Tuesday, February 12th from 2 to 4 p.m. or Wednesday, February 13th from 1 to 2 p.m.  Service Wednesday, February 13th at 2 p.m. with reception after.  In lieu of flowers, please donate to Hamilton Street Cats, in memory of a man who loved his cats almost as much as he loved his wife.
To lead a better life
I need my love to be here…
Here, there and everywhere.