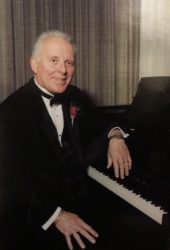 November 10, 1934 – January 22, 2019
Lee, David Robert, Q.C. – David Lee died peacefully with his family by his side on January 22, 2019 after struggling with Parkinson's Disease for over 15 years.  Loving husband of Ruth for 60 years.   Cherished father of Daniel (Teresa Wasiak-Lee); Sarah (Cameron Belsher); Stephen (partner Nancy Reinhart); and Deborah (Kevin Eldridge).  Beloved grandfather of Kristen and Shane Belsher; Duncan, Adam and Robyn Eldridge; and Clare (David Adamcik).  Loyal and valued friend.  David practised law for 35 years in Dundas at Lee & Lee alongside his father D'Arcy.  His clients appreciated his wise counsel.  His colleagues considered him reliable and trustworthy.  David was a multi-talented individual who was first and foremost a gifted pianist and composer.  He also excelled at golf and his nearly 60 year membership at The Hamilton Golf and Country Club was very dear to his heart.  He won many tournaments including winning the Club Championship 13 times over a period of five decades.  As a Master Model Railroader, he spent his lifetime creating an elaborate model railroad in the basement of his home.   In 2015 he and Ruth donated the entire layout to their alma mater, McMaster University.  It is now located in the David Braley Health Sciences Centre, Hamilton for all to enjoy.  Many thanks to the Dundas Model Railroad Club for their involvement in dismantling and relocating the layout to its new home.  While pursuing his passions and in service as an active member of The Rotary Club of Dundas and a Master of Valley Lodge 100, David touched many lives and inspired many more.   He was a fine gentleman who lived his life with integrity, a dry sense of humour, and a relentless desire for excellence.  His love for his wife surpassed all other passions and was crucial to helping him cope with his debilitating illness.  The family wishes to thank the staff of The Meadows Long Term Care Home for their care and concern.  We are also deeply grateful to David's private caregiver, Mariola, who faithfully and with great compassion helped David face his disease.  We also wish to thank Dr. Misiaszek and Lisa for their guidance and wise medical advice.  David had a strong Christian faith and was an active member of St. Mark's United Church for 60 years.  Cremation has taken place.  Friends will be received by the family on Friday, March 1 from 7-9 p.m. at St. Mark's United Church (Governor's Road) with David's Memorial Service being held at the Church on Saturday, March 2 at 11:00 a.m.  In lieu of flowers, donations in memory of David may be made to the Bell Fund of St. Mark's United Church (1 Lyndale Drive, Dundas, Ontario, L9H 3L4 ) or to Parkinson Canada.
The Lord said unto him "Well done, thou good and faithful servant".
KJV Matthew 25:21