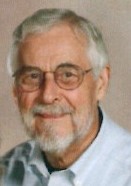 Allan, Wayne Stuart.  Died quietly at Emmanuel House, Hamilton on March 28 2018, from pancreatic cancer.   Beloved husband and companion of Sheila Russell, who was with him at the end.  Dear stepfather of Geoffrey Walton and stepfather-in law of Treasa Levasseur, who supported him lovingly throughout his illness.  Predeceased by parents Aldon and Carol Allan, by dear sister Judy and brother-in-law Brian, by brother–in-law Nigel Russell, and nephew Garrett Russell.   Sadly missed by brother and sister–in-law Pat and Doug McDonell, Alan, Jackie and Thomas McDonell, and Linda and Gareth Clemo, as well as  sister-in-law Lesley Russell and brother–in-law Eugene Ladniak,  niece Kate Lambacher (Chris), nephew Chris Ladniak (Tara) and much-loved children Amara and Ben Lambacher and Connor, Avery and Jacob Ladniak, as well as nephew Duncan Russell, and dear godsons Eamon and Hugh Kelly.
Born in Brantford on October 9, 1941, Wayne studied philosophy at Western and McMaster Universities, then taught literature at Mohawk College for over 25 years, a job he loved.  At the same time, he pursued his love of art with studies in sculpture, printmaking, collage and other media at Mohawk College, McMaster University, Dundas Valley School of Art, and elsewhere.  He had many exhibitions of his work in the Hamilton area and was a member of the Carnegie Gallery in Dundas.  His life was informed by every kind of human expression: visual art, literature, music, film, and dance.
Wayne was active in the life of St. James Anglican Church, Dundas, loved to assist with the Taizé prayer at St. Paul's Westdale and served as an assessor at  ACPO conferences.  He was a deeply spiritual man, attending many courses, retreats and workshops on meditation, psychology, spiritual life and the arts.  People were drawn to him for his wit, generosity, and thoughtfulness, and he loved his many friends.
Sheila is grateful for the kindness and support of family, friends and neighbours during Wayne's illness.  The family would like to thank the wonderful staff at Juravinski Surgical Oncology Department, Bertram Place, the Palliative Care Team, and Emmanuel House.
A visitation will be held at St. James Anglican Church on Wednesday April 4 from 1-2 pm before a funeral service at 2 pm.  In lieu of flowers, the family would appreciate donations to St. James Anglican Church or Good Shepherd Ministries.