William Everest Bryans
December 16, 1925-March 13, 2018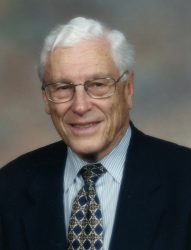 Bill Bryans, dearly beloved husband of Helen (Gardner) and brother of Barbara Braithwaite (John) passed away peacefully on Tuesday, March 13 in his 93rd year.
A professional optometrist, Bill practised for 48 years first with his father and then his cousin, Warren Currie, with offices in downtown Hamilton. Bill contributed to his community for 16 years as a member of the Dundas School Board and the Wentworth County Board, becoming chair of both.
Bill was active in the Masonic Lodge, the Scottish Rite and after his retirement the Probus Club of Hamilton. He loved jazz and swing music and through good seasons and bad cheered on the Hamilton Tiger-Cats. He followed politics as a "Bill Davis Progressive Conservative," and wintered for 30 years in Naples, Florida where he made many friends. For the last several decades of his life, Bill enjoyed the daily companionship of a fine group of friends at Tim Horton's. A Dundas man throughout his adult life, Bill said he always had a "warm feeling in his heart" when he returned there from trips.
Above all, Bill and Helen took special interest in the lives and careers of their children: Wendy (Jeffrey Simpson), Ian (Lynn Coslett) and Martha (Tom Knowlton). The entire family suffered a terrible blow when Ian suddenly passed away in 2015. Bill, a self-described "frustrated jock," took great pleasure in watching Ian and four grandsons play football.
Bill leaves behind eight grandchildren – Tait Simpson (Katie Martin), Danielle Simpson (Geoffrey Carran), Brook Simpson (Anna Borotko), Shane Bryans (Lianne Wilson), Matthew Bryans (Emily Duggan), Katie Knowlton, Briana Knowlton, Laura Knowlton – and four great-grandchildren, Theo Simpson, Carter John Carran, Landon Bryans and Alexis Carran.
Special thanks to Rose Ortiz, the caregivers from LHIN, the staff at Amica and the local Veterans Affairs office for their kindnesses to Bill.
A memorial service will be held at St. Paul's United Church, 9 Park St. West, Dundas, L9H1X3 at 3 p.m. on Saturday, March 24. Donations in Bill's memory can be made to St. Paul's.