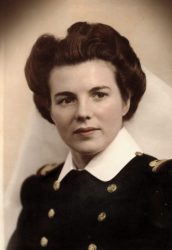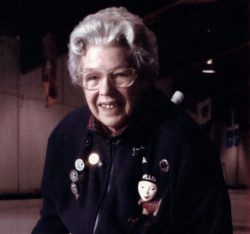 18 November 1917 – 29 August 2017
Passed away peacefully at West Lincoln Memorial Hospital Grimsby.Predeceased by her husband Dr.Robert Lofthouse (Bob) in 2007. Mother to Lois (Don Marquardson), Jane (Dave Whitehead), Ruth (Rogers Abbott) and Lynn (Doug Williams). Loved Grandmother to 6 and Great Grandmother to 4. Helen was a graduate of St. Boniface Nursing School in Winnipeg Manitoba. She became an air stewardess with TCA after graduation as it was a job requirement to be a nurse and be of short stature. After surviving several plane crashes she decided to join the Royal Canadian Navy and was posted to Halifax where she met the man of her dreams! Helen continued to be an avid curler who always spoke so fondly of the many years she spent enjoying the sport, and the friends she made in the Hamilton, Dundas and Grimsby Curling Clubs. One of her fond memories was the time she spent coaching the blind curlers in Dundas. She recently found enjoyment playing shuffleboard with a wonderful senior group in Winona. She also shared a strong friendship with the parishioners of St. John's Anglican Church who welcomed her when she moved to the area. A special thank you to the staff of Orchard Terrace and West Lincoln Memorial Hospital for their kind caring support. In lieu of flowers expression of sympathy may be sent to the Hamilton Health Sciences Foundation or Hamilton Community Foundation or St. John's Anglican Church Winona.
A Celebration of Helen's life has been planned for what would have been Helen's 100th birthday.  This will be held November 18th, 2017 from 2:00 until 4:00 at St. John's Anglican Church, located at 1285 Hwy. 8, Winona, Ontario.  Friends and family are welcome to join us in celebrating the extraordinary life of this very special lady.