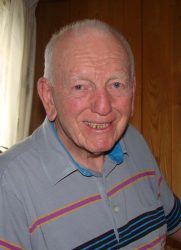 July 15, 1929 – April 14, 2017
It is with deep emotion that we announce the unexpected passing of our 'Gord, Gordon, Gordy, Onkel, Dad, Pops or Opa'. By which-ever name he was called he was respected and welcomed. Beloved husband of Elfriede for 66 years, loving father to Janet Breitmaier and Rein (Char) Breitmaier, and doting Opa to two generations Robyn (Luigi) Bruni and their children Keele, Tiziano and Idina, and Taryn Breitmaier and son Dexter. Predeceased by his parents Ernest Herman & Johanna Mina Breitmaier.
Gordon championed two careers, first as a wood-worker/cabinet maker with Globe Furniture of Waterloo and later as a foreman with Sunar Hauserman of Waterloo.
Gordon and Elfriede enjoyed early retirement in Fort Myers Florida and Point Clark Ontario, and recently have called Dundas Ontario home.
In keeping with the family's wishes, cremation has taken place. A Celebration of Life will be observed at Turner Family Funeral Home, 53 Main St in Dundas on Friday, April 21, 2017 with visitation at 1pm, and a service at 2pm.