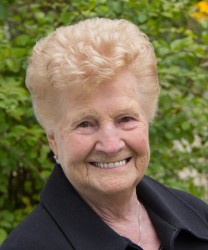 June 13, 1925 – January 12, 2016
AGNES FLEMING FRAME FROST
On January 12, 2016, on a cold and sparkling morning in Winnipeg, Agnes Fleming Frame Frost, in her 91st year, slipped peacefully from this world. She is reunited now with her beloved husband, Lorne and her eldest grandson, Matthew. Agnes was a wonderful mother and grandmother.  She took great interest and had great pride in the activities and accomplishments of her children and grandchildren. She will be greatly missed by her son Rick and wife Nancy, her daughter Margaret and husband Bruce, her son Jim and her grandchildren, Ryan and Alison, Jonathan and Ashley, Sean and Andrea, Carolyn and Jeff, Justin and Sarah, Lorena Frost Barriere and many nieces and nephews. Agnes taught her great grandchildren, Reese, Heidi, Emma, Bridget, Samantha and Oscar to call her GG, short for Great Grandma. She loved their hugs and kisses and many drawings and homemade cards were tucked away to be enjoyed again.
Agnes had the joy of life. She was enthusiastic about all her activities and friends. Her Bridge and Euchre friends at the Seniors' Club, her Bowling teammates, Bingo companions, as well as travelling friends, made her life full and enjoyable. She loved a good joke, outings anywhere, and a day trip to the casino. Those one armed bandits were her favourites!  Agnes and Lorne were the original successful owners of Frosty's Fish and Chips, and anyone who dropped into the store for take-out was treated to the best example of how to put customers first. Chatting and joking, they made their customers welcome and produced a delicious product.   Together, Agnes and Lorne spent time traveling in Lorne's Model T Ford antique cars, worked tirelessly for the Wentworth Pioneer Village, and enjoyed many an evening of square dancing. Agnes and Lorne loved the cottage at Red Bay  and nothing was better than a game of cards with the family. We all learned early, "never send a boy to do a man's job!" when playing cards with Agnes.
Agnes loved her football teams. At a Blue Bomber game in Winnipeg, she nearly had family members pitched from the game because she hollered (her word) loudly and relentlessly for her beloved Ti-Cats! Agnes was known to have locked family members out of the house if they came calling when an important game was on TV.  She gave all of us many smiles and shaped the values of our family life.
It was a life well lived and we will miss her dearly.  Rest in Peace, great lady.
Funeral Services for Agnes will be held at the Turner Family Funeral Home at 53 Main St. Dundas ON Monday January 18, 2016. Visiting will begin at 11:00 AM followed by the funeral service at 12:30 PM. Everyone is invited for refreshments following the service.
In celebration of Agnes's life, donations may be made to the Dundas Museum and Archives, 139 Park St. W. Dundas, ON L9H 1X8 or a charity of your choice.