March 28, 1945 – August 19, 2015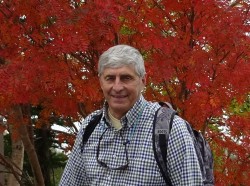 Bull, James "Jim" Arthur – Today is a sad day as we are forced to say goodbye to a great man. On the night of August 19th,   Jim passed away after a three week battle after being overwhelmed by a post-surgery infection. Jim fought this with his characteristic grace and integrity and in the final moments listened to the words of Robert Service's "The Cremation of Sam McGee"- a poem he had committed to memory read to him by his son Alexander. He leaves behind his partner in love, life and adventures, Frances, his immediate family who include his daughter-in-law Nicole, his sister Barbara/Lorne, his brother Robert/Marilyn and many nieces and nephews. His extended family included many close friends in the Greater Hamilton community and abroad. This includes, but is certainly not limited to, schoolmates and reformed trouble makers from McMaster University, Canada's best and brightest from the Canada Center for Inland Waters, mad-men with brooms at the Granite Curling club in Dundas and finally the welcoming and graceful crew of the championship winning sailboat "Subito".
Those who had the good fortune to know and love Jim should take comfort that he parted on his own terms and be assured that when we all meet him again, he'll have your favorite drink ready, the BBQ fired up, and some random renovation project partially completed.
As per his wishes, Jim will be cremated and laid to rest with a park view. While he was far too modest for any form of self-congratulations, there are plans in the works for a celebration of his life. This is tentatively scheduled for late September at a venue in the Hamilton area. Please reach out to the family via e-mail and we'll get you the specifics.