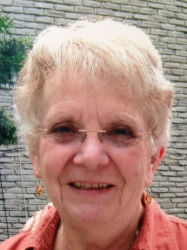 Spitzer , Dr. Mary Lou – July 25, 1936 to April 10, 2015
Mary Louise Spitzer was born to Dr. Wilfred Waite and Florence Gowman in Brantford, ON. She died following a sudden and unexpected illness on Friday. She was predeceased by her brother William (Ursula), is survived by her brother Robert, sister Susan and her children Paul (Nancy); Pam (Kevin); Carl (Kim); Brenda (Eamonn) and beloved grandchildren Zoё, Hanna, Andrew, Emily, Stephanie, Caroline, Ryan, Louise, Seamus and Rachel. She was predeceased and fondly regarded by Dr. Walter Spitzer. She was greatly loved by her sister-in-law Ruth Matisko (Barnard) and will be dearly missed by her eight nieces and nephews. Mary Lou studied medicine at the University of Toronto, followed by her specialization in Ophthalmology in Michigan. She will be remembered for her compassion and skill as a physician in Dundas, ON with partner Dr. Keith Mann and her amazing office team whom she loved. She performed countless vision saving surgeries and mentored many medical residents at McMaster University. Mary Lou was passionate about providing medical care to poor, underserviced communities in Newfoundland through the Grenfell Mission as well as in D. Republic, Haiti and most recently with Medical Ministry International in Columbia, still providing medical care at age 74! She was deeply committed to St. Cuthbert's Church where she was an elder and beloved friend and will be greatly missed by the McMaster Women`s Group. Mary Lou greatly enjoyed her "retirement" years and especially the ten years she was able to enjoy with her companion Len Huget. Mary Lou was incredibly cultured and loved reading, travel, theatre, music, antiques, history, Bridge and was an accomplished seamstress, chef, artist and mentor. She will be remembered as a multi-talented, humble, gracious, generous and optimistic person who was a wonderful friend and an amazing mother.
The family will receive visitors at Cattel, Eaton and Chambers Funeral home, 53 Main St., Dundas on Thursday, April 16 from 6pm to 9pm. A memorial service to celebrate Mary Lou`s life will be held on Friday, April 17 at 2:30pm at St. Cuthbert`s Church, 2 Bond St. Hamilton. In lieu of flowers donations may be made to Medical Ministry International Canada.