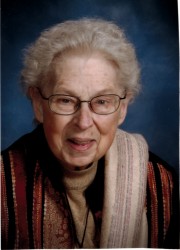 December 23, 1925 – December 21, 2014
Well-known and much-loved artist and volunteer, December 23, 1925 to December 21, 2014.  Our mother, grandmother and great-mother passed away at St. Joseph's Villa in Dundas 2 days before her 89th birthday. Mary was born in Sydney Australia to Norman and Frances Schooley, sister to John and Patricia.  Mary often said that her mother was a mad Irishwoman who moved the family many times, stopping in Vancouver, Toronto and Montreal, finally ending up in London Ont.  There Mary attended Brescia College, UWO, met her husband Nate, a young medical student, and married in 1945.  They moved to Chatham and spent many rich years there, raising 5 children together in a close supportive neighbourhood.  Nate and Mary believed in fostering a love of art and culture in their children, and did so at every opportunity, taking the whole family traveling, touring art galleries and museums and eating in great restaurants.  Nate taught us fairness and generosity by example, and Mary creativity and compassion.  When Nate retired from the Public General Hospital in Chatham, they moved to Dundas where they spent many hours exploring the Bruce Trail and conservation areas, and where Mary discovered the Dundas Valley School of Art (DVSA).  Mary will be sadly missed by her children Stephen (Betty) of Hamilton, Paul (Beth) of London, Andrew of Toronto, Christine (Jacquie) of Nova Scotia.  Her grandchildren Jillian (Colin), Brendan, Christopher (Michelle Mann) and Michelle were very dear to her, and her great-grandchildren Grace, Ian and Claire brought her great delight in her final years.  Their visits always prompted big smiles.  She was predeceased by her parents, brother and sister, husband Nate, son Peter and grandson Brendan, losses which affected her deeply.  In times of adversity, Mary sought refuge in her faith in God and immersed herself in her artwork.  An artist from a young age, Mary worked in clay, watercolour, inks and dyes and pastels.  She had many exhibitions, including a successful retrospective "Transformations" in Sept 2002 and the last major show of her work "Mary Toplack…and the world around me" in July 2010, both at the Dofasco Gallery DVSA.  She received several awards and honourable mentions.  She loved painting outdoors in her beloved Dundas Valley "dominated wherever one looks by the escarpment in all its moods" with several landscape artist friends.  "My landscapes…are a result of direct interaction between myself and the world around me…sun, wind, insects, wildlife and lots of fresh air."  She described her abstract paintings as celebrating "ease of movement, grace, almost flight…a direct result of my battle with arthritis…I now 'dance' only in my work".  Mary enthusiastically promoted the arts.  She was a charter member of the Thames Art Gallery Board in Chatham, wrote the weekly Arts Column for the Chatham Daily News from 1972-76, was founding member of the DVSA Alumni Association, Curator of the MUMC Gallery from 1988-96, member of the "On The Edge" environmental painters group, past president of the Hamilton Women's Art Association, contributing member of the Carnegie Gallery, Hamilton & Region Arts Council, Central Ontario Art Association and Hamilton Artists Inc.  Her contributions were acknowledged by nominations for Woman of the Year (Arts) and Dundas Citizen of the Year.  She received the L'Escarbot Pin a federal award for contributions to the arts in 1992 and the first annual Carnegie Medallion in 1994.  Mary spent countless hours at the DVSA, her home away from home, learning, studying and working alongside Maria Ferretti-Perrins (both of them tirelessly) on successful Art Auctions, Estate Sales and Art in the Yard.  Her enthusiasm was infectious, spurring the involvement of many family members.  Mary made friends wherever she went, developing warm connections in Ontario, Nova Scotia, Ireland, the Azores and beyond.  Mary was a woman of great faith and lover of life-long learning.  "My education is not in my background.  It is a living, breathing part of my everyday life and very much in the foreground".  Her humour and wit shone through to the end.  She will be greatly missed by her family, friends and community.  We extend our heartfelt thanks to the staff of Rose Garden, St. Joseph's Villa and to Dr. Michael West for showing Mary much kindness and care.  Cremation has taken place.  Friends will be received by the family on Sunday December 28th from 2-4 pm & 6-8 pm. at the Cattel, Eaton & Chambers Funeral Home, 53 Main Street, Dundas.  A Memorial Mass  will be held on Monday, December 29th at 11:30 am at ST. JOSEPH'S VILLA CHAPEL, 56 Governor's Rd. Dundas, with a reception to follow at the Villa.  Mary wanted friends and family to assemble joyously to celebrate her well-lived and long life.  In lieu of flowers, Mary asked that donations be made to her beloved Dundas Valley School of Art. A celebration of her life will be held at the DVSA at a later date.
"I want to be an artist who works with her head, her heart and her hands."  Mary, you were that and more.