(1942-2014. Not long enough.)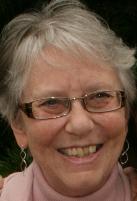 Heather was our mom. She spoke softly in a voice that echoed. She had us three boys in her twenties and felt lucky to adopt three daughters a little later in life. Constant and unwavering, she gave us everything and asked for little in return. She taught us ways of being: hard lessons because those ways meant discipline and giving, and these are not easy ways to live.
Heather was also a sister, an aunt, a grama, and a friend. She delighted in her extended family and in her friends. She knew the important details of everyone's lives, listened closely but said little, and always made time. She was a strong, brave, tireless sister. She was an attentive, loving aunt. She was a devoted, involved grama. Our kids always returned home from a weekend with grama as different people: calmer, happier, more confident. And she could be many kinds of friend: caring, supportive, silly, Scotch-imbibing, dancing, and tree-swinging.
Heather did with conviction what she thought to be right, whether it was painting behind the fridge, remembering EVERYONE's birthday, or living her minimalist lifestyle. She approached her cancer with the same quiet, humble, steadfast strength and dignity: fighting battles she might win, accepting what she could not control. Until the very end she has been the same stoic permanence, and lived a life that will be remembered always.
Friends will be received by the family on Sunday afternoon, November 2nd from 1 until the Service for Heather at 2 o'clock at the Cattel, Eaton & Chambers Funeral Home, 53 Main Street, Dundas. Cremation has taken place. In lieu of flowers, donations to the Canadian Cancer Society would be appreciated by the family.