September 30, 1937 – October 9, 2014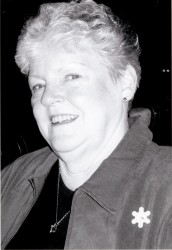 Samek, Veronica "Nikki"
After more than a decade of caring, supporting, advocating and battling cancer and Alzheimer's, on behalf of Walter, her husband and confidant of more than 50 years, Veronica "Nikki" Samek was diagnosed with her own cancer in January and as swiftly as she went to battle, the disease was one step ahead, ultimately taking her life on October 9, 2014.
Veronica, known to her friends and family as "Nikki" was born September 30, 1937, daughter of Vera and Joseph Elliott, sister to Cecil, Judy, Betsy, Molly, and Clark. Survived by her children, Mark, Jeff (Sonja), Phil (Louise) and Jane (Danny) along with grandchildren  Emily & Jordan, Andrew, Laine & Dion, Adam & Sophie.
Nikki was an avid reader – mysteries, romance, current affairs, she was a lover of the performing arts, especially the Opera, and enjoyed quiet times knitting and reflecting on days gone by.  She always enjoyed family times, picnics and holiday dinners, where laughter was always on the menu.  Nikki always had a flair for fashion and a gift for design as was evident in her loving home.  She was prepared for any occasion and beautifully dressed for any event.
Nikki's life will be celebrated with a viewing at Cattel, Eaton and Chambers Funeral Home, 53 Main Street, Dundas on Monday, October 13, 2014 – 2 to 4 p.m. & 7 to 9 p.m.  A celebration of Nikki's life will take place on Tuesday, October 14, 2014 at 11:30 a.m. at Cattel, Eaton and Chambers Funeral Home.  Luncheon at the Cattel Centre will follow.
In lieu of flowers, donations can be made to Emmanuel House or the Canadian Cancer Society.  Special thanks to the staff at Emmanuel House for their wonderful care and her special guardian Chloe.