December 20, 1934 – August 19, 2014
Samek, Walter Andrew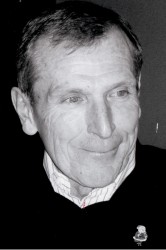 In Life …
As a young boy, Walter grew up on Queen Street North, riding his bicycle in all weather to deliver groceries.  Throughout his teenage years, he excelled at sports – especially water polo and football at Westdale High School.  He always had a way of making friends and never failed to leave a lasting impression on all those he met.
His endearing wife Nikki of 56 years and their four children – Mark, Jeff, Phil and Jane along with their spouses; Sonja, Louise and Daniel will never forget the way he could make you laugh.  His grandchildren – Andrew, Emily, Laine, Jordan, Adam, Dion and Sophie – will miss the endless energetic hours they spent with their Papa.  He will be missed by his sister Emilie, brother John and many relatives.
Walter will forever be remembered for his wit, his abundant energy and his flirtatious charm.
In Business …
Behind the scene yet always "seen", Walter Samek … once called an impresario, was known to some as a promoter and to others as an entertainer.  Everyone who knew him, realized he had a vision for events and how to create them.  His enthusiasm was so great … he just carried everybody along.  From the backyards of Forest Hill to the estates on the Bridal Path, from hotels to open spaces throughout the Golden Horseshoe … these backdrops were his playground.
His passion was setting the stage from weddings to corporate affairs and everything in between – tents, marquees and pavilions were his specialty.  He could create an outdoor event in ways no one else ever thought possible.  If he really wanted something, he kept going until he achieved it.  For those who shared in Walter's life, they also shared in his infectious passion.
In Memory …
Walter was often seen holding a camera in one hand and a harmonica in the other.  He loved to dance, sing, laugh and play.  He was the best husband, father and grandfather around and will be missed by all.
Walter embraced any challenge including his 10+ year battle with cancer and heart disease.  The reoccurring bouts couldn't dim his spirit.  Unfortunately, his final battle with Dementia/Alzheimer's proved to be too much.
Visitation to be held Friday, August 22nd  from 2 to 4 p.m. and 7 to 9 p.m. at the Cattel, Eaton & Chambers Funeral Home, 53 Main Street, Dundas, ON , where the Service for Walter will be held Saturday morning at 11 o'clock. Reception to follow in the Cattel Centre. Many thanks to the staff at Shalom Village.
In memory of Walter, donations to the Shalom Village Charity Foundation, the Alzheimer Society or the Cancer Society are welcome.