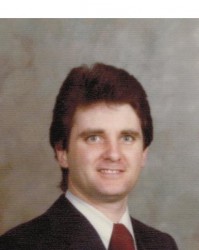 July 17th, 1946 – November 15th  2013
B.Sc Chemistry – McMaster University.
Physiotherapy – SMR, University of Manitoba.
Former President of the Ontario Physiotherapy Association.
It is with great sorrow, and solace that we celebrate Doug in his passing.  He was a quiet, caring, and loyal man with a generous heart, and loving personality.  He taught us how to be a fighter without ever being angry, or raising his voice.  Doug accepted his struggle with Huntington's Disease with tremendous dignity.  His strength and courage was both inspiring and humbling. Doug leaves behind his dear and devoted wife of 44 years, Anna, whom was always at his side.  Loving father of Mark (Shileen), who gave him continuous joy and shared many wonderful memories onboard the train. He is also survived by his loving, and nurturing mother, Marie Sampson; his wonderful siblings Dan (Jan), Scott (Joanne), Laura (Kent Ginther).  Loving brother-in-law of Peter Rappazzo (Iole), and sister-in-law Sundae O'Sullivan (Terry). Doug is predeceased by his father John Sampson, stepfather Larry Kilgour, and in-laws Santo (Carmela) Rappazzo. Doug will be missed by all his nieces and nephews. Sammy was blessed with a legion of friends, including Bill, Denis, Barb, cruising buddies, and his best man Wayne Cummings, who continued to comfort, guide and entertain him for many years. Upon retirement Doug was steadfast at completing the weekly NY Times crossword puzzle with his mother and Larry.  He will be remembered most for his keen mind and continuous travel adventures. The family expresses the utmost gratitude to the staff at the Valley Trail unit at St. Joseph's Villa, for their kindness, respect and support; especially Chaplin Beverly, Elaine, Devy, Marilou, Annette and Dr. Kronenwald. Friends will be received by the family on Monday afternoon and evening from 2-4 & 6-9 at the Cattel, Eaton & Chambers Funeral Home, 53 Main Street, Dundas. Funeral Mass Tuesday morning at 10 o'clock at ST, AUGUSTINE'S CHURCH, 58 Sydenham Street, Dundas. Cremation has taken place. Inurnment Gates of Heaven Cemetery. Prayer Service Monday evening at 8 o'clock in the Funeral Home, followed by a Eulogy. In lieu of flowers, expressions of sympathy to the Huntington Society of Canada would be appreciated by the family.