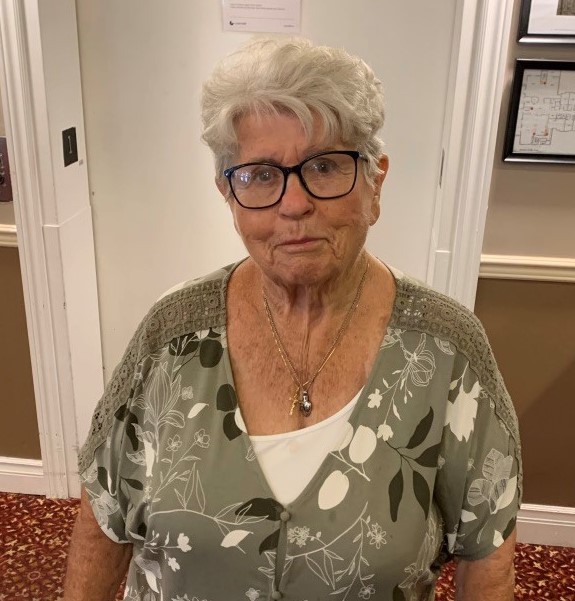 (March 13, 1932 – May 7, 2022)

It is with great sadness that we announce the passing of Maureen (Mary) Kidd.

Maureen was born in Glasgow, Scotland on March 13, 1932 and came to Canada in 1956. She is predeceased by her beloved husband, Frank, in July, 2020 and brother and sisters, John, Margaret and Norah.

Maureen will be sadly missed by her children: Frances (Dan), Angela (Ed) and son Steven, (his dog Stirling), grandchildren: Dylan, Haley, Katie and Hannah and great grandchildren: Henry, Libby and Vivienne.

Maureen worked in the retail industry in Hamilton for many years. Retirement in 1990 gave Maureen and Frank the opportunity to spend 20+ winters in Indian Rocks, Florida at the Atlantis Club.

Maureen loved to visit the casino, play bingo and was always the life of the party. She could belt out a tune and made her presence known wherever she went. Maureen never let her hearing impairment prevent her from being a social butterfly and making many friends. She treasured her outings with her girlfriends. Her sharp memory enabled her to recall everyone's names and birthdays. She provided comic relief with her Grannyisms.

Maureen believed in angels and that "her ship was coming in". She was partial to a good cup of tea and a murder mystery. Most of all, she loved spending time with her family, whom she loved with all her heart.

Maureen and Frank were married for 68 years and she was devastated when she lost the love of her life in July 2020. Maureen was a devout Catholic, always had her rosary close at hand and regularly attended Sunday mass prior to her declining health.

Many thanks to the staff at the Hamilton General Hospital, St. Peter's Hospital, the Hamilton LHIN, The Georgian in Dundas and Carrington Place in Ancaster.

Cremation has taken place and a Funeral Mass, will be held May 13, 2022 at 1:00 p.m. at St. Augustine's Church 58 Sydenham St, Dundas followed by a reception at the Cattel Centre (beside Turner Family Funeral Home) 45 Main Street, Dundas. In lieu of flowers, donations are appreciated and can be made to The Cardiology Unit at The Hamilton General Hospital by clicking on this link https://www.hamiltonhealth.ca/donate and choosing other and then typing in HGH – Cardiology Unit.
Have a Place in Heaven:
Please don't sing sad songs for me,
Forget your grief and fears,
For I am in a perfect place,
Away from pain and tears….
I'm far away from hunger
And hurt and want and pride.
I have a place in Heaven
With the Master by my side.
My life on earth was very good,
As earthly lives can go,
But Paradise is so much more
Than anyone can know…
My heart is filled with happiness
And sweet rejoicing, too.
To walk with God is perfect peace,
A joy forever new.