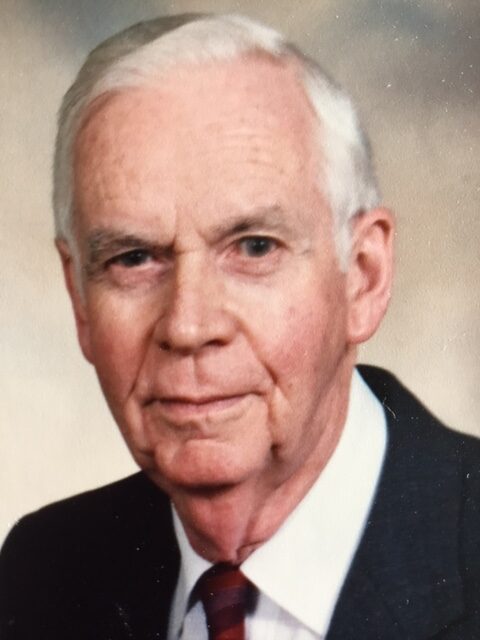 Jay passed away peacefully at home with family February 21, 2022 at the age of 101.
Born in Campbellford, Ontario to James Charles Anderson and Lela Claire Stuart, he attended elementary and secondary schools there and graduated in Medicine from the University of Toronto in 1943.
He served in World War II as a regimental medical officer in the Royal Canadian Army Medical Core attached to the 86th Bridge Company in Canada and in Northwest Europe. Upon discharge in 1946, it was found that he had been infected with pulmonary tuberculosis necessitating six months in various sanitaria followed by six months limited activity. During the latter, his fiancée Geertruida (Truus) Emsbroek arrived in Canada from the Netherlands, and they were married in Campbellford in April 1947.
In 1948 he opened an office for general practice in his home town. However, after four years of solo practice his tuberculosis became active again and he was admitted to Sunnybrook Hospital in Toronto for treatment and recovery. Seeking a branch of medicine in which he could have regular hours, he returned to U of T for a year to get his Diploma in Public Health.
His first assignment was with the Simcoe County Health Unit working out of Orillia for 8 years after which he became Medical Officer of Health at the Peterborough Health Department for 4 years. In 1966 he shifted direction to become the editor of the Canadian Medical Association Journal in Toronto and then in Ottawa until 1975.
In 1996, Truus died. In 1997, Jay married Pearl Snyder and moved to Calgary. After Pearl's death in 2017, he moved back to Toronto to be near family. Jay re-connected with a significant long-time friend which resulted in his move to London to be with Dr. Katherine Turner. They spent 4 very happy years together which was especially important during a time of COVID isolation.
Jay lived a remarkable life bookended by two global pandemics. He was guided by his faith; his belief in the basic goodness of people; his dedication to living a healthy life in mind, body and spirit; and, most memorably, he was guided by the importance of finding meaning and humour in his day to day life. Jay was a gentleman of the "old school" and was an exemplary product of an educational system that stressed memorization. He could draw with ease and perfect timing upon quotations from the Bible, from a wide range of poetry, from Kahlil Gibran, from Robbie Burns and from the person he had just met in the elevator to bring humour, insight and comfort to any situation. Jay loved music from the '30's and '40's – especially the big band or Swing era brought to life every Saturday on the TV by Lawrence Welk. Humorous and meaningful conversation is perhaps what he valued most. People mattered to Jay and their personal stories were always valued. In this way, he was a great humanist.
Jay is survived by his sons David (Lesley), James (Martha deceased), Ian (Kate) and daughter, Audrey (Richard) and six grandchildren: Mieke (Zac), Megan (Paul), Aaron (Meg), Casey, Mariah and Juliette and three great grandchildren: Logan, Lucas and Liam. He is also survived by his niece, Mary K Anderson, great-nephew Asud (Caitlin) and great-great nieces Norah and Evelyn, nephew Jack Anderson (Shirley) and cousin Glenn Thompson (Gloria). He is lovingly remembered by Medalit Quispe, Ann Irwin and his Dutch nieces and nephews Frits Emsbroek (Ietje), Lex Emsbroek (Christiane), Fieneke, Inge (Charles), and Berend Jan Garssen (Wies). In addition to his parents, Jay was predeceased by his brothers Dr. Ernest Anderson (Ruth) and Stuart Anderson (Helen); his nieces and nephews Laura Lee, Bill Anderson, Bob Anderson, Margot Emsbroek, Herman Emsbroek, Piet-Hein Emsbroek; and his Dutch in-laws Bart and Enny Emsbroek, Gerda and Jan Garssen, Henk and Gu Emsbroek.
Jay will be remembered by his many friends at Knox Presbyterian Church in Ottawa, Centre Street Church in Calgary and by his adopted Snyder and Turner extended families. Jay wanted to be – and will be – remembered as a loving person who was fun to be with and made others feel special.
In Jay's memory, please extend an act of kindness to those around you.