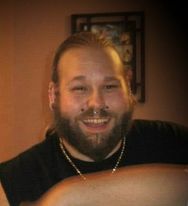 12 July 1983 – 18 October 2021 Christopher died quietly at home. Beloved son of Katie & Ed Henderson. Missed by brothers Chad (Lianna), Sam(Mandy), sister Jenn(Chris), and grandmother Annette White. Predeceased by his brother Justin, uncle Ricky White, and grandfather Rodney White. Beloved nephew of Anne Wood (Jim), Ernie White, and Shelly White, and nieces & nephews. The family would also like to mention his dear, dear friend whom Christopher loved and who gave so very much of himself to Christopher's life: Paul Chappel.

Christopher walked to the beat of his own drum, being very involved in and volunteering for many arts and LGBTQ organizations. We are so grateful to Christopher's medical and social helpers, especially his dear Dr. Hugs: Dr. Eric Movsesan & staff.

Visitation at the Turner Family Funeral Home, Thursday 28th of October 7-8 with service at 8:30. Due to COVID rules, you must sign-up for the service at https://signup.com/go/UMUcLFR. In lieu of flowers, we request you remember Christopher by taking something to your local foodbank, donations to an LGBTQ cause, or the Good Shepherd Food Bank.