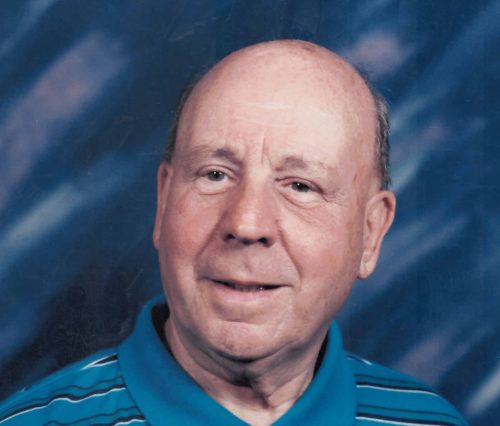 Born July 6, 1929 in Dublin, Ireland. Died April 11, 2021, in Dundas, Ontario.
With the end of his life merely days away, and Kidney Failure taking what was left after Alzheimers had robbed him of so much, Paddy McGran was asked a simple question: Do you know what day it is?
His answer? "Today is the happiest day of the year."
That he offered a cheerful, optimistic, make everyone feel-good answer is no surprise to anyone that knew my father. I can't remember as much as a frown on his face. He was always cheerful, always optimistic, always happy to help and keen to know what was going on in your life.
He was Paddy to most, Padraig to plenty, Pappy or Nandad to his grandchildren, and of course Dad. He was many things to many people.
Patrick McGran died Sunday at the age of 91, survived by his wife of nearly 70 years, Eveleen, and by his daughter, Audrey, his son-in-law Dave, and his son, Kevin.
He is predeceased by his oldest son, Noel, and first-born daughter, Nuala.
He has six grandchildren (James, Megan, David, Jason, Ellen and Shauna) and seven great-grandchildren (Tyler, Chase, Sapphire, Saya, Mira, Conor and Carson).
Ireland:
Born in Dublin, Ireland, on July 6, 1929, the oldest of nine, his mother died when he was very young and he was raised by his grandparents in the hard-scrabble north side of Dublin. He lived in the Sherriff St.-Newfoundland St. area by the docks, where his namesake grandfather (a.k.a The Grandfather) had moved after departing Belfast. Something about making grenades for the IRA, running for his life, and maybe inventing the last name "McGran" to hide from the Brits.
Despite pleas from his father, John, and the Christian Brothers, who wanted him to carry on to higher education, The Grandfather decided it was time for Paddy to start work when he was 14. A bright kid and a quick learner, Paddy rose in the ranks at the General Post Office where he worked the telegraph and could still tap out Morse Code if ever the occasion called for it.
One of his favourite memories of that job was meeting none other than Walt Disney himself, who while on a visit to Ireland, came to the GPO and needed someone to help him get a message back to America.
He met Eveleen in 1949, at a dance. Smitten, they married on Dec. 26, 1951, honeymooning in England. Noel came along on Dec. 2, 1952 and Nuala in 1955. Nuala, sadly, died in infancy.
Canada:
The family emigrated to Canada shortly after, with Audrey born in 1958, Kevin in 1963. The house at 3 Oakridge Dr., in Scarborough, became kind of a halfway house for Irish immigrating to Canada, or anybody looking for a good Sunday roast beef. We all loved when brothers Sean, Jim and Tony, as well as the Bergins, the Dowlings, the Slackes, the Hickeys, the Larkins, and all the neighbours, like Ethezes, Da Silvas, Carletons came over.
In no time at all the kettle would be on and maybe the cards would be on the table for a game of Don, or Rummy, or if we could find the pennies, Rummoli.
Paddy built a new life in a new country, working multiple jobs until rising to the senior administrator of Parks and Property for the former Metropolitan Toronto government. If you came to Toronto from Dublin, and you found yourself working for the city, my Dad probably had something to do with it.
Retirement
He was a hard-working man until he wasn't, basically the day after he retired – which is how we all want it to be, right? That's when he really started enjoying the fruits of his labour. He and Eveleen enjoyed the cottage, his dog Topsy, Florida, cruises, trips to Ireland and site-seeing in Europe and of course visiting family, especially his brothers, sister, in-laws, aunts, uncles and cousins spread through Ireland and England.
A teatotaler all his life – teabag in a pre-heated pot, milk in the cup first, by the way — he always saved room for dessert, whether it was Mom's Favourite Cake or her famous sherry-infused trifle after when he and Uncle Eddie – a fellow teatotaler – would pretend to be tipsy. (Dad jokes, eh?) He enjoyed treats right up to a few days before he died, sneaking one last piece of chocolate before he was taken in the ambulance after the fall that set off the final events of his life.
A life well lived
He was calm, cool and collected, accepting others – no matter how different — a model of inclusivity that resonates today.
He loved to laugh, anything from Laurel and Hardy, Abbot and Costello, Monty Python, Carry On movies or the legendary Peter Sellers. And oh, yes, Benny Hill and Are You Being Served.
He loved puzzles: crosswords, jumbles, word searches. And he had an affinity for the poetry of Robert Service (who was, co-incidentally, a Toronto Star correspondent for a time). Oh, and a good game of Scrabble.
The Irish took to hockey quickly, something about the physicality of the game, I'm sure. And Paddy was no different. The carpet beneath his feet at his favourite chair was worn down with him apparently trying to kick into the net what the likes of Dave Keon, Darryl Sittler and Wendel Clark could not as he watched the Maple Leafs on Hockey Night in Canada.
That love of hockey was passed on to me. He took me to Leafs games, and I got a steady diet of Argonauts games and Blue Jays games. Of note, he got me into the second game the Blue Jays ever played in their expansion season. And their first game at the SkyDome. I was a sportswriter by then, but I preferred to sit with my Dad that game.
Though he couldn't skate, he was president of the St. Theresa's Hockey Association. He made sure all the kids had equipment. (We had bags and bags of extra stuff in the basement.)
For a time he was also assistant coach in charge of opening and closing doors on line changes. Hockey strategy was not his thing, though he did tell me I should hit more. On the ice was the only place this gentle soul of a man preached anything close to physical aggression.
No practice was too early in the day, nor too late at night. He always got me there and home, as well as some of my teammates who weren't as lucky to have a ride at the ready.
There was one night he dropped me off early and picked me up late: Feb. 7, 1976. Darryl Sittler's 10-point night against the Boston Bruins. He was giggling as I got in the car, telling me what had happened as we listened to the end of the third period. (The Bruins were Uncle Eddie's team by the way, so there was no shortage of ribbing to follow at any family get-together.)
I never made the NHL, but I do cover the league and the Maple Leafs for the Toronto Star, a job I love. If not for him indulging my passion, I might not have such a dream job.
He never put his hopes and aspirations on his children, preferring to let us find our own way. Perhaps because of his own childhood – when advanced education was not an option, and when kids grew up too young – he was always supportive of the plans we laid out for ourselves.
For Noel, the oldest, that meant being okay with heading straight to the job market after high school. For Audrey, that included investing in horses and nights out at the race track when Audrey and Dave got heavily into the standardbred industry.
Though in one particular moment I'll never forget, he teared up after I got my undergrad degree, something he'd always wanted to achieve himself but never could. What made it so special was how my name was called to accept my Bachelor of Arts: "Kevin Patrick McGran."
It meant so much to him to hear his name called at the same time. He would have loved higher education, and indeed pursued a number of degrees/certificates related to work later in life, achievements I'm only discovering in the boxes of photographs and mementos that he's left behind, physical reminders of a life well lived.
His name has been called in another way now.
We love you, Dad. We'll miss you. You will live in our hearts, always.
In Memory
For those who are moved to do so, we encourage donations in lieu of flowers.
Please consider
-The Canadian Alzheimers Society.
(That's a generic link. Please specify the Binbrook site in your donation. That's where Jason lives. You could say it is in Jason Stewart's honour).


Go raibh maith agat ó theaghlach McGran
Sláinte