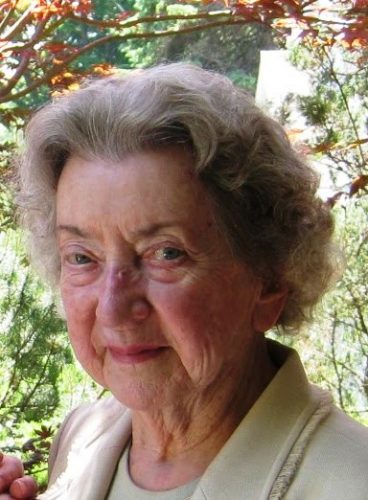 1921 – 2021
Jean passed away peacefully on March 18, 2021 at the age of 99. Born in New Liskeard, Ontario, Jean was the second daughter of Scottish immigrants William and Clara Joss. She was predeceased by her sisters Clara and Doris.
Jean spent her formative years in Hamilton and Colborne. Focused and determined, Jean excelled in school, becoming a teacher by age seventeen. For a number of years she taught six grades in a one room country school while continuing her studies at night to graduate with a BA from McMaster University.
Jean married Mel Wilson in 1951 and settled in Dundas to start a family and build a home. John arrived as the first child and Jim a few years later. As a mother she was cheery, kind and charitable with high standards and expectations of success for her sons.
An annual summer family vacation was always important to Jean, and she would arrange a trip to a new place each summer. Jean enjoyed golfing, first with her university friends and then with Mel. In later years, watching the spring Masters Tournament was an annual highlight for her. At home she loved her garden, especially her many roses and peonies. She also loved to walk, and well into her eighties she would walk several kilometres on most days.
In 1987 Jean lost her husband and best friend and placed her focus on family and volunteering with Knox Presbyterian Church (Dundas), the Cancer Society, and Meals-on-Wheels. She warmly welcomed her daughters-in-law, Anne-Marie (John) and Vicki (Jim), and delighted in the arrivals of her grandchildren: Colleen, Jennifer, Carolyn and Mark. Grandma's house was always a special place where they learned, played games, discovered baking, and made lifelong memories.
Jean was fortunate to see her one-hundredth Christmas, and maintained her sense of dignity, humanity and good humour until her last days. We will miss her so much.
Our family would like to thank the tremendous caregivers at Wentworth Lodge who, over eight years, wove Jean into the fabric of the residence and the hearts of those who live and work there. We are truly grateful.
A private family gathering and interment will be planned for a later date.