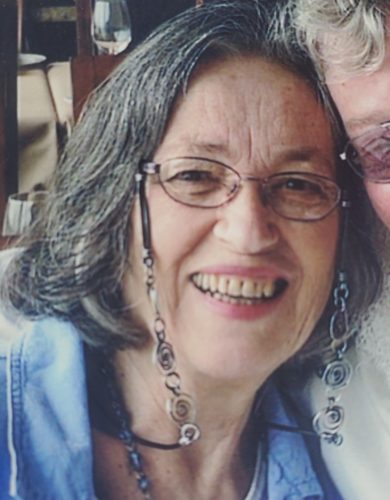 With deep sorrow we share news of the death of Kathryn Elizabeth Smith McCarroll in her 82nd year at St Joseph's Villa in Dundas, ON. Born in London ON, May 19, 1939, she died March 13, 2021, peacefully in her sleep after many years of shining her light, even through dementia. Beloved wife to Paul, Mother to Pam (Harris Athanasiadis) & Wendy, Grandmother to Naomi, Caleb & Amado, Step-Grandmother to Mark & Hannah (Ben), Sister to Barbara Corbet & Ruth Norman, Sister-in-law to Peter (Sherry), Auntie to Heather (John), Ann, Geoffrey, Jen, Jill (Brian), Brent (Nickie) & Cam (Gosia), several wonderful great nieces and nephews and a friend to many! Much loved and fondly remembered, also, by Aaron Gallegos, Tim Butler and the Athanasiadis clan.
"Kath," as she is commonly known by those who love her, was a High School teacher in the Hamilton Board for nearly 40 years and spent the last few decades of her work life at the Lawrence Alternative Program. She loved her students and colleagues and was deeply committed to the possibilities for publicly funded education. As a member of congregations of the United Church of Canada and the Presbyterian Church in Canada, she volunteered for many years in church-based outreach programs supporting refugees and marginalized folk through advocacy, community building, music making, and practices of hospitality. In her presence, people felt heard, loved and safe no matter their circumstance. Even until her last day, she welcomed people into her midst with a grin and arms open wide for a hug. She had a wonderful capacity to laugh at herself and to find joy in people and the gifts of God's creation. With her sure and certain hope in the resurrection, we are better because Kath loved us and taught us how to follow the call to love justice, do mercy and walk humbly with our God.
We are so grateful to staff from Senior Support Services of Southern Ontario (Spencer Coombe and Taylor Campbell) for mediating our relationship with Kath through these pandemic times, for loving and caring for her and allowing her to continue to be a teacher of love, gratitude and grace over the last years. She loved you deeply. We also raise up gracious thanks to the Nurses (especially Karen and Noemi), wonderful PSWs, cleaning and management staff at Oak Grove, St Joseph's Villa. Even in this time of terrible underfunding and pandemic, you have been beacons of hope.
If you wish to honour our beloved Kath please consider donating to the Emergency Support Committee for Refugees through Canada Helps or by regular mail ESCR c/o Nora Melara-López, Compass Community Health, 438 Hughson St. N, Hamilton ON, L8L4N5.

A service of witness to the resurrection and celebration of her life will take place at some point in the future when pandemic restrictions are lifted and we can do it in Kath style.