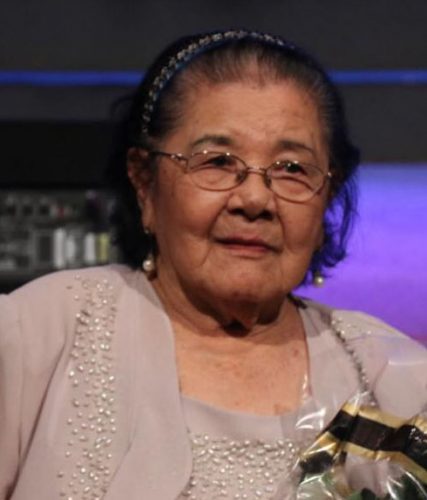 Was born on May 26, 1925 in one of the beautiful northern provinces of the Philippines named Solano Vizcaya. A city with rich and lushious nature, and several national parks with eco tourism, and lovely people who are hospitable, kind and hardworking. Since Spaniards were governors in the past, it had influenced the culture and language as well. Juanita lived with her parents and siblings Andres, Antonio and Julita. Unfortunately she lost her father at a young age. After a few years her mother Margarita remarried, and through that she gained two more siblings, Junior and Victoria.
Juanita grew as an independent and strong young lady, as she pursued a bachelor degree in education, she began working as a high school history teacher. Probably this was creating the path she would have begun for the future. She met a young handsome gentleman, Mr. Olympio Ventura Ancheta, who was the chief of the US surplus in the Philippines. They fell in love and decided to start a new life together in marriage. Juanita and Olympio were gifted with three daughters, Elizabeth, Corazon and Judith and Olympio Junior, their son. She left teaching and became employed at the YMCA. She was so passionate about her community work that not so long she became the Community Administrative Officer, and during her time as an officer some of her plans were achieved:
1. Family Planning was introduced to young women. They were educated and empowered in starting their family and awareness of their healthcare and childcare.
2. National Cottage Industries Development (NASIDA), introducing and training ladies how to weave bags with natural materials, paper macheas, hand made natural decoratives and crafts.
3. Kindergarten for children in Quezon City communities
4. Leadership programs for high school students, through seminars and annual meetings, camping, trainings.
5. Sports such as swimming and basketball, and organizing tournaments.
6. Outreaches: free infant milk, clothes, feeding sessions in indigent areas.
In 1977 her first grandchild was born from her beloved eldest daughter Elizabeth, which made them all happy and joyful; their migration to Canada took place the same year. A new chapter of Juanita's life began.
In Canada they lived in Hamilton, Juanita and Olympio had happy news of their second coming grandchild, from their beloved daughter Corazon who lived in the same city with her husband.
Community work never stopped for the couple. In a short period of time, they pioneered and established the first Filipino school in Ontario and this led to organizing Hamilton's Filipino community, which held many activities like filipino folk dancing, beauty pageants, outreaches and many more. She made the costumes for the dance group. Juanita's skills were so good that she sewed a wedding gown for her beloved daughter Judith, which she has kept dear to this very day.
Everyone has a principal in life, Junita's was :
" Charity starts from home"
And truly, love and charity starts from practicing it with your loved ones, relatives close or distant as it always overflows beyond.
Having a keen eye for the goodness in a person, she would express her appreciation to everyone in her special way by calling them beautiful, charming, etc. She and her husband knew how to put a smile to a person's face. She was most famous for her sweet sense of humour, and he was for his great penmanship. Their son Junior/Jun has inherited both of these attributes.
Juanita and her husband both enjoyed traveling. The adventure would probably bring new ideas for their next projects. While traveling they would look for relatives in that country or city, and made sure they have a mini reunion together. This comes from them valuing family ties and relationships, which they passed on to their children and grandchildren.
A beautiful life lived with faith in Christ, and the knowledge that God's love endures forever, is one of the values and manners passed to her 12 grandchildren and 14 great grandchildren.
To view the livestream: https://event.forgetmenotceremonies.com/ceremony?c=6891154a-8455-41bd-a37b-580250d8a2fb