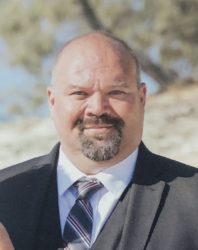 March 17, 1966 – March 10, 2019
Allan "Scott" Cox, 52, unexpectedly passed away on March 10, 2019.
Scott is survived by his wife Tanya, sons Steven and Andrew, daughters Heather (Kyle) and Rebekah, and puppies Nala and Ava. Scott was a loving father, husband, and friend.
Scott was born in Orillia, Ontario to Allan and Elizabeth Cox. On June 10, 1989, he married his former wife, Theresa Murphy, and shared four children. He worked as a contractor before opening his own business, Allan's Plaster and Painting, which came to an end in 1997. Starting in a new direction, Scott went to Mohawk College for Integrated Technology and began his IT career at CIBC, where he met his current wife, Tanya (Wood) Cox. Tanya and Scott were married on September 5th, 2003; they were happily married for 15 years.
Scott enjoyed barbecuing and cooking (especially steak & the spicier the better), always with a glass of red wine. Scott had many pastimes – one of his favorites being waking his kids up for school by playing Green Day on his electric guitar with the amp turned up to the max. He also enjoyed watching football, his favourite team being the San Francisco 49ers. Scott was a dreamer, and always had more projects on the go than you could count. Always with some type of renovation work to be done, you wouldn't catch him wearing anything other than his safety Crocs, which doubled as snowshoes, and aided in his unwavering protest of winter. Scott loved to engage in profound conversation and always imparted his wisdom to his children. A loving and dedicated father, Scott cherished time with his family greatly, especially games night. Scott had a playful spirit and always had a joke or sarcastic remark for anything that came at him.
A dedicated follower of Christ since 1991, Scott remained faithful to the end.
A Celebration of Life service will be held at 2:00 PM – 5:00 PM on Friday, March 15th at the Turner Family Funeral Home, 53 Main St, Dundas, ON L9H 2P7.