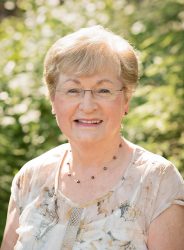 August 6, 1941 – December 17, 2018
With profound sadness and loving hearts, we said goodbye to wife and mother, Ethel Mae (Hamilton) MacDonald on December 17, 2018. Ethel passed away peacefully at the Juravinski Hospital at the age of 77 years, following a courageous battle with cancer.
She leaves behind her soulmate and husband, Richard MacDonald, her devoted daughters, Cheryl (David) and Heather (Jamie) and her beloved grandchildren, Rhys and Norah. Her brother-in-law, David and sister-in-law, Theresa as well as her nieces and nephews, John, Carol, Bob, Kathryn, Tom, James and Jennifer will also miss her greatly.
Ethel enjoyed a wonderful and rewarding career in education, as a Family Studies teacher and later as Head of Department at several schools including Dundas District High School and Highland Secondary School. She was a dedicated and much-loved teacher.
Ethel was an active member of the Canadian Federation of University Women – Hamilton, serving on the Executive for many years including the role of President. She also was a long-time member of Grace Lutheran Church, serving in a variety of roles including Chair of the Worship Committee, a member of the Church Council and Lay Assistant for Sunday services.
In her spare time, Ethel loved being in the outdoors, either at the family farm on the Manitoulin Island or walking in the beautiful conservation areas in the Dundas Valley. She loved animals including her three dogs, Bryer, Jake and Lucy. She also enjoyed gardening, travel and attending local cultural events.
Thank you to Dr. Emili, Dr. Myers, Dr. Forbes, Dr. Serrano and Dr. Whitton, along with all the compassionate and supportive staff at the Juravinski Hospital. Their care and expertise helped extend Ethel's life and we are grateful for the time we had with her.
Ethel cared deeply about education, particularly the education of girls and women as well as the natural environment. Memorial donations can be made to the Canadian Federation of University Women – Hamilton Scholarship Fund or the Hamilton Conservation Foundation.
Family and friends will gather at Grace Lutheran Church, 1107 Main Street West, Hamilton, on Friday, December 28, 2018 for a service at 2 pm celebrating Ethel's life followed by a reception from 3-5 pm in Grace Hall, adjoining the church. All who knew Ethel are invited to join us for the service and/or reception.