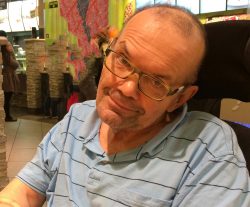 Surrounded by the love of his family, Jim Giacinti passed away peacefully in his 67th year on November 9, 2018, after a long and hard fought battle with Parkinson's Disease. Beloved husband of Janelle. Wonderful father to Jillian, Jeralee (Jack), and Jolene (Lachlan), and grandfather to Lucas and Hannah. Brother to Mary Jo, Chris, Jonathan (predeceased), Elizabeth, Lois, and Jerry. Uncle and cousin to many. Jim loved his furry friends, especially his buddy "Cammie". A quiet man, Jim bravely faced the challenges that life dealt him with courage, and a smile that would light up the room. We would like to thank the many people who have supported him in his journey over the years, including Dr. W. Oczkowski, the staff of Wentworth Lodge, and Cindy. Your help will never be forgotten. As would be Jim's wishes, no funeral service will be held. In lieu of flowers, donations to the Hamilton Burlington SPCA would be appreciated.
"If there ever comes a day where we can't be together, keep me in your heart. I'll stay there forever." ~ A. A. Milne
Please shed no tears.