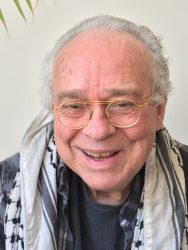 March 27, 1945 – July 26, 2018
The family of Michael is saddened to announce his death on July 26 after a short battle with cancer. Michael lived his life bravely with a fierce commitment to social justice. He had a diverse and loyal group of friends who, along with family, made sure his last weeks included as much laughter, love and ice cream as could be possible.
Michael was proudly "out there" as one of the country's original gay rights activists. He described how, at age 13, he had no words to describe what he knew about himself but he just knew he was different. The inner turmoils of those early years eventually formed Michael into the warm, funny and caring man he was until his death at Emmanuel House. In the 1970s and 80s whether in Ottawa, Hamilton or elsewhere he would often be the face and voice to the issues faced by the gay community. Michael, a voracious saver of all sorts of memorabilia, was the keeper of the Hamilton Queer Archives which are now transitioning to the Hamilton Public Library Archives.
He was a lifetime member of Binkley United Church. He found new dedication to the congregation and the work of the greater church following the 1988 United Church commitment to the full inclusion of all individuals in the life and work of the church regardless of sexual orientation.
He graduated from McMaster University in 1969 where he was fully engaged in student life, serving as President of the McMaster Students Union. In the 1980's he went back to school at Mohawk College to become a registered nurse. For more than 25 years before his retirement Michael worked as an RN at the Hamilton General Hospital, mainly in the post-operative care unit. There he offered a compassionate and steady presence to patients and their families.
Michael was proud of his more than 35 years of sobriety and was a continuing volunteer with Alcoholics Anonymous until just a few months ago. He gave up smoking decades ago but it was lung cancer that arrived unexpectedly to take him from us way too early.
He felt his real purpose in life was to speak up and provide support for those who faced inequality and lack of access to support as a result of homophobia, poverty, education and other social injustices. He served on the Social Justice and World Outreach committee of the Hamilton Presbytery of the United Church of Canada. Michael was the founder of the Hamilton Aids Society. He was also an active member of the Hamilton Group of Canadians for Justice and Peace in the Middle East.
He travelled as much as he could and said that as a young person growing up in West Hamilton he could not have imagined such travel would ever be possible. This included trips to Israel, Palestine, China, Cuba and Australia where he could gain knowledge about social justice issues first-hand. In Australia he fulfilled another of his passions by seeking new connections in the Johnstone and Kidd family tree.
Michael was the youngest and much-loved brother to sisters Kathleen (Bob Cruickshanks), Roberta (Dennis Jackson) and brother Bill (Eleanor Johnstone). His nieces and nephews were grateful for the annual Christmas bottle of Palestinian olive oil. All of his great nieces and nephews remember him fondly for their subscriptions to Chirp, Chickadee and Owl magazines. He didn't have the opportunity to start the tradition again with the great grandnieces and nephew who have joined the family in the past four years.
The family would like to thank the staff on C3 at the Henderson (Juravinski) for their attention and care of Michael in early July and offer a very special thank you to the staff of Emmanuel House.
Visitations to be held Thursday August 2nd, 2 – 4 p.m. or 7 – 9 p.m. at the Turner Family Funeral Home, 53 Main Street in Dundas. All are warmly welcome to join in Michael's celebration of life Friday August 3rd at Binkley United Church, 1570 Main Street West at 12:30 p.m..
In lieu of flowers the family requests you consider donations to the following – or any charity you feel Michael would support: The United Church of Canada Foundation Seeds of Hope program; the Cruickshanks-Johnstone Book Award at McMaster University; and the ABACUS project of the Hamilton Community Foundation.