November 15, 1935 – August 18, 2014
CROZIER, SHIRLEY ELIZABETH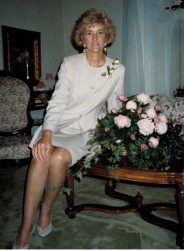 It is with profound sadness that we announce the passing of our beloved wife, devoted mother, grandmother, great grandmother, sister and friend to many, Shirley (Rutter) Hirst Crozier. Shirley is survived by her loving husband, Clare Crozier, daughter's Jennifer Hirst of Dundas; Catharine (Bruce) Macartney of West Vancouver and son Matthew (Lorraine) Hirst of Brantford;  grandchildren Hanna and Keenan Macartney; David, Ben (Desiree); Anna; Lucas; Abigail & Levi Hirst;  Carrie (Nick) Coty and James Hirst; great grandson Tyler Hirst, brother David (Pamela) Rutter of Ancaster and family in Toronto, New York, Florida and England.
Born in Cobourg, Ontario Shirley was the daughter of the late Florence Hill and Jack Rutter. During her student days Shirley was a member of the Canadian Naval Reserve and for a time served on the Canadian aircraft carrier, HMS Bonaventure. Shirley was a graduate of Hamilton's St. Joseph School of Nursing class of 1958.
As a dedicated, caring and highly skilled health professional Shirley worked in the Emergency Department at St. Joseph Hospital; in the community with family physician Dr. Vincent Rudnick, and since 1972 as a nurse practitioner at the McMaster University Medical Centre. In 1980 Shirley was appointed an Assistant  Clinical Professor in the Department of Family Medicine . Patients often referred to her as Dr. Shirley.
Shirley's career exemplified her many good qualities, particularly her love of learning and generosity of spirit. It can best be described as one in which her advise was always sought and respected. As a woman of great conviction, independence and achievement she was devoted to her work, which she truly enjoyed, and to her family, which was her primary focus.
An active and engaged volunteer at St. Paul's United Church, Dundas and the Dundas Museum & Archives, Shirley was a skilled homemaker and gracious hostess, accomplished award winning gardener; craftier, golf enthusiast, family historian and genealogist.  Shirley & Clare enjoyed their many travels: from coast to coast in Canada, Hilton Head Island, Great Britain; the south of France, New Zealand and Australia.
The family would like to thank the Rev. Rick Spies, Rev. Stan Wootton,  Dr. Leber (oncologist); Dr. Bates (thrombo clinic), Dr. Mulji (cardiologist), staff at the Juravinski Cancer Centre, Shirley's medical colleagues, and our many friends for their compassionate care and support.
Friends will be received by the family on Thursday afternoon and evening from 2-4 & 7-9 at the Cattel, Eaton & Chambers Funeral Home, 53 Main Street, Dundas.
A celebration of Shirley's life will take place at St. Paul's United Church, Dundas on Friday, August 22nd at 1:00 p.m. If desired, in lieu of flowers, donations to the Juravinski Cancer Centre, St. Paul's United Church or the Dundas Museum & Archives would be greatly appreciated by the family.