October 27, 1993 – August 16, 2014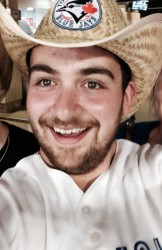 As the result of a car accident on August 16, 2014, Heaven above received our
Angel Julian in his 21st year. Cherished son of Catharine and Peter, baby
brother of Ashton, Devon, and Chelsea, all so very proud of his many
accomplishments. A graduate of Highland Secondary and Liaison Culinary College,
Jules was active in Dundas Little League and Minor Baseball. An aspiring chef,
he was even more passionate about his family and friends. Julian always filled
the room with his huge grin, heart, and enthusiasm. He will forever be loved
and missed. A Memorial Service will be held on Saturday, September 6th, at 2:00 p.m. at the Cattel, Eaton & Chambers Funeral Home, 53 Main Street, Dundas. In lieu of flowers, donations to the Canadian Cancer Society or the
Hamilton SPCA would be appreciated.