July 29, 1931 – December 16, 2013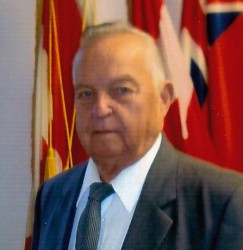 Lawrence Robert (Bob) Davidson Sr., 82, died after a lengthy illness on December 16, 2013, at the Kelso Villa Retirement Home, Owen Sound, ON.  Born July 29, 1931 in Hamilton, ON, he is predeceased by his parents, William and Marion (Cox) Davidson, sisters Alberta Davidson, Dorothea Davidson and brother William (Bill) Davidson, all of Hamilton, ON, and his first wife Joan (Foster) Davidson, of Millgrove, ON. Leaving behind, Bob and Joan's children; Bob Jr. (Vicky), David (Cindy) all of Drumheller, AB, Larry of Owen Sound, ON, and daughter Linda Whyte of Toronto, ON, Also leaving behind his step-daughter Lisa (Mark) Mitchell of Haldimand, ON and step-son Jay (Shannon) Taylor of Edmonton, ON. Grandpa will be missed by his 6 grandchildren; Carla & Jordan Davidson, Wayne & Jesse Davidson, Lauren & Andrew Whyte and 4 step-grandchildren Ally & Meghan Mitchell and Nathan & Emma Taylor. Bob later married Karen (Taylor) Davidson in 1979 and together they raised Karen's children, Lisa and Jay until their separation in 2000. As a teenager, Bob was an active member of the Hamilton Cycling Club where both he and his brother Bill trained and participated in many road and track races.  Bob's training took him around the Hamilton Bay every morning prior the ringing of the first bell at school. Bob spent over 50 years in the elevator business, in Hamilton and Owen Sound as an owner and working alongside his union brothers. Bob owned Davidson Electrical and serviced the Chatsworth area.
Dad, this is your final ride up in the elevator car to the Penthouse! Rest in Peace.
A special thank you to the staff at Kelso Villa for the care and support they provided to Bob while he lived there.  The family would also like to thank Wayne McNabb and Kevin Cavanaugh, both of Owen Sound, ON for their support over the last year. Cremation has taken place.  Interment of cremated remains will be held Friday, February 21, 2014 at 1 p.m. at Woodland Cemetery. Memorial donations may be made in Bob's name to Prostate Cancer Canada, 2 Lombard Street, 3rd floor, Toronto, ON M5C 1M1 or online at https://prostatecancercanada.donorportal.ca.