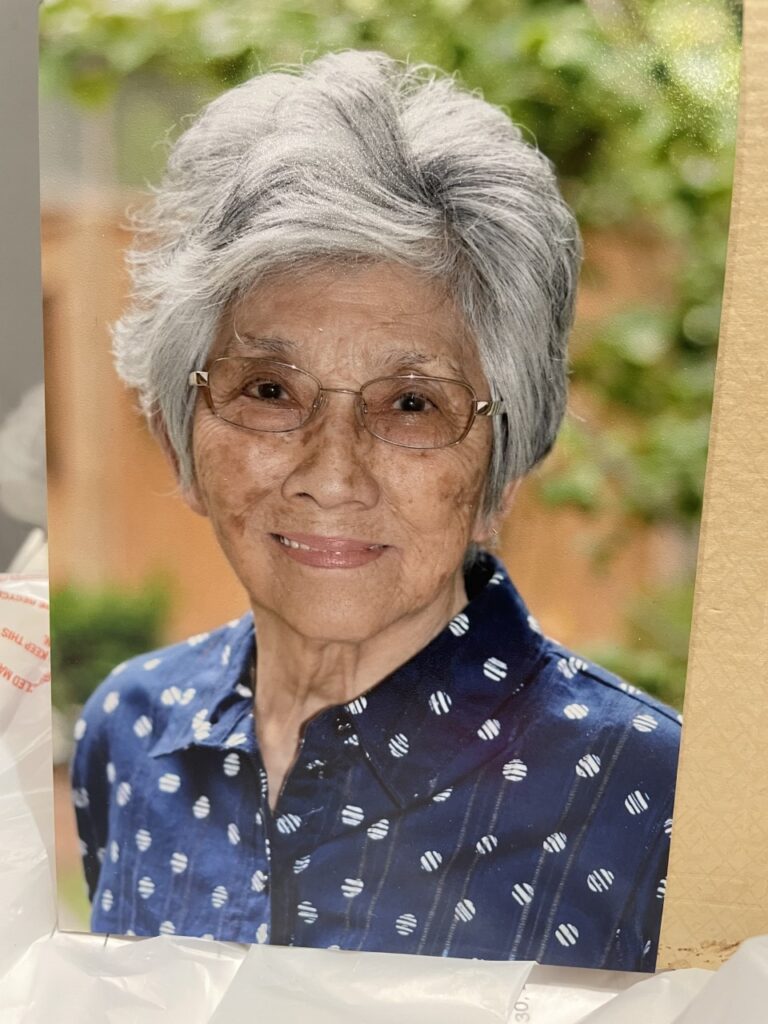 Toshiko Jean Tokiwa (nee Kanemoto), passed away peacefully on Thursday, March 17, 2022, at Wentworth Lodge in Dundas, Ontario. Preceded in death by her loving husband Paul Yoshiharu Tokiwa. Loving mother to Paul, George (Michele), and Michael (Christine). She is also survived by her grandchildren, Amy, Kyle, Sarah, Bridget, and Jameson, and by her sister-in-law Claire Tokiwa and sister-in-law Lily Gibson and fondly remembered by her nieces and nephews and their families. Predeceased by sister-in-law Helen Tokiwa and brother-in-law Sam Tokiwa. Jean had many friends, and those who knew her were all touched by her kindness, gentleness, and generosity.
Jean was born on June 18, 1931, to Suenobo John Kanemoto and Tai Mary Kanemoto in Vancouver, British Columbia, where she spent much of her childhood. In March 1941, her family was relocated to the Tashme Japanese Canadian internment camp where they endured challenging conditions. The time they spent there was difficult, but Jean managed to still find hope in her situation. Following the war, her family was released from the camp and made new lives for themselves in Hamilton, Ontario, living in a house located where City Hall now stands.
Jean graduated from Westdale Secondary School and obtained her teaching certificate. She was a graduate of McMaster University, obtaining her degree through part-time studies and night school. She worked for the Hamilton-Wentworth School Board and she taught elementary school and English as a Second Language (ESL) to children and adults in both her home and at student homes and at the Salvation Army. She continued to teach ESL after her retirement. She coached and played girls' softball, studied Japanese, practiced Tai Chi, and was an avid reader and animal lover, having many cats and dogs. She also loved to travel to destinations such as Japan, Italy, France, and across the U.S. She helped out at the Hamilton Japanese United Church, where she taught a Sunday School class and helped and supported the Canadian Japanese Cultural Centre of Hamilton (CJCC).
Jean spent many enjoyable years at the Caroline Place Retirement Residence in Hamilton and more recently was cared for by the kind and dedicated staff at the Wentworth Lodge in Dundas.
Visitation services will be held at Turner Family Funeral Home, 53 Main Street, Dundas, Ontario 905-628-6412 on Sunday, March 27, 2022, 2-4 pm and 7-9 pm. Funeral service on Monday, March 28, 2022, at 10 am at the same location and burial will take place after the service at White Chapel Memorial Gardens on 1895 Main St. W, Hamilton, Ontario. For those who wish to livestream the service, please follow this link: https://event.forgetmenotceremonies.com/ceremony?c=402bed78-56a4-4a84-a0ad-9aaf87b15015. The family would appreciate it that those who attend the visitation and/or service and burial, wear masks. In lieu of flowers, please consider a donation to The Heart and Stroke Foundation of Canada and Alzheimer Society of Canada or a charity of your choice.