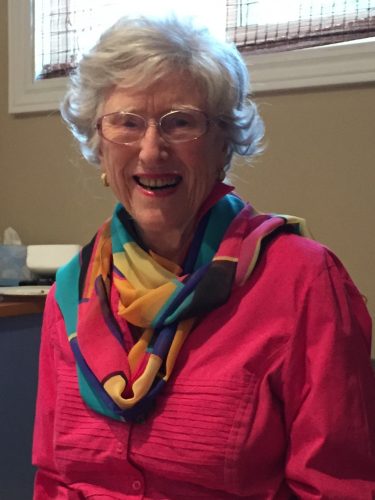 On November 24 Jeanne Ruth Merifield Beck passed away at St. Peter's Chedoke. Jeanne was the much loved wife of John Spencer Robin Beck (D 2006). She will be missed by her daughters Susan Nelson (John), Constance Rietkoetter and Jody Beck (Rob) and her grandchildren and great-grandchildren, Kate Eidsvick (Bruce) – Bjorn, Ella and Terje, Robin Perry (Clark) – Diana, Jackson and David, Tom (Sarah) – Liam and Annika, Matthew (Jenna) – Anika and Levi, Seth (Krystal) – Juliet and Claire, Sarah (John) – Avery and Mady, and Alex, Robin and Lindsay. Jeanne was born in Sarnia and spent her early years in Montreal, Calgary and Toronto. She was a graduate of Victoria University in Toronto (BA Hons. – History) and McMaster University (MA and PhD). After graduating from Victoria University, Jeanne and Robin moved to Dundas, Ontario where they raised their family. Jeanne began her career as a reporter for the Dundas Star, and after their children were all in school, she returned to work as an elected School Trustee for the former Dundas and Wentworth County School Boards. After receiving her PhD in history, she became a lecturer for McMaster University, and later an editor for the Ontario Historical Study Series, publishing 33 books on the history of Ontario. One of her greatest pleasures came from researching and writing. She wrote, "To Do and To Endure" The life of Catherine Donnelly, Sister of Service. Jeanne was an avid gardener, and loved music and art. She and Robin enjoyed travelling through Europe, Arizona and Florida and spending their summers at Sand Lake.
A service of remembrance will be held on Saturday, December 11 at 11:00 a.m. at St. James Anglican, 137 Melville Street, Dundas, ON. To attend Jeanne's Service, you must show proof of double vaccinations and identification. The service will be live streamed as well. To view the livestream please click here
In lieu of flowers, the family would prefer donations to St. James Anglican Church, Dundas or the RBG.