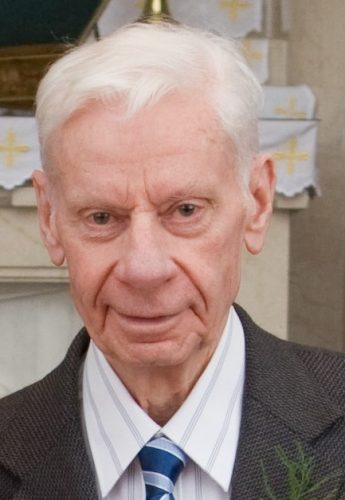 It is with great sadness we announce the sudden passing of  Lester, on March 17, 2021. Loving father of David Blair Flett of Glen Mills, Pa, USA and Suzanne Michelle Flett of Rouses Pt, NY, USA . Devoted father in law to Sossy Flett (nee Sarikhanian) and Marc Chapman.  Grandpa will be sadly missed by granddaughter Erin Lindsay Flett  and grandson Sebastian (Sebouh) Thomas Flett.  Predeceased by his former wife Marilyn Patricia Flett (nee Nugent),  long time partner Doreen Chichakian, father Harold Walker Flett, mother Vera Maud Flett (nee Leake), brother Myron Everett Flett, sister in law Maria Flett, niece Sylvia Flett-Newlands, and daughter in law Annita Capouellez-Flett. Survived by nephew Greg Flett of Toronto. Lester had been living in Hamilton at Queens Garden Long Term Care facility. Prior to that he had lived in Westdale and in West Flamborough (Dundas), Ontario. Lester was born in St. John's Newfoundland on July 6, 1927 and was a former member of the Cawesco (Canadian Westinghouse Company) club; he worked as an electrical product design engineer and later product engineering manager at Westinghouse, which later became Camco/General Electric in Hamilton for 44 years in the major appliance division. Lester was a 1948 graduate of McGill University in Montreal Quebec in electrical engineering; a 1946 graduate of Memorial University College in St. John's Newfoundland; and a 1943 graduate of Prince of Wales College in St. John's Newfoundland. He loved playing piano at the many fun loving house parties he and Patricia had and was an accomplished classical pianist. He used to conduct piano recitals in St. Johns. Lester also loved piano jazz music and playing church organs. He played jazz piano at the Gown and Gavel Pub in Hamilton. He was a member of the Dundas Valley Golf and Curling Club for many years and once got a golfing birdie on hole 7. We will all miss his kind, gentle, easy going, caring nature and engaging smile.
Cremation will take place at Turner Family Funeral Home 53 Main St. Dundas, Ontario L9H 2P7
Donations in memory of Lester may be made to the Glaucoma Research Foundation, 251 Post St, Suite 600  San Francisco, CA 94108  or the  American Macular Degeneration Foundation,  P.O. Box 515  Northampton, MA  01061-0515.