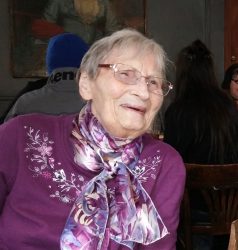 Walker, Martha Margaret (Betty)  (nee Whyte) – passed away peacefully at Hamilton General Hospital in her 91st year on January 7, 2021. Beloved by her daughter Irene (Ray), grandsons David (Lori) and Matthew (Orsha) and great grandchildren, Brooke, Kade, Shae, Seth, Vaughn and Tage. Predeceased by her beloved husband of 69 years, Jimmy, in 2020.
Betty, also known as Nana Nana, spent her life taking care of people – her siblings when she was younger, and Jimmy and Irene, and her growing family later on.  She was a strong personality, filled with kindness and love for all of her family, and was the bond that held together distant nephews and brothers and sisters through all the tough times and the good times and crises of the near and extended family. Betty was a hardworking and feisty woman, but most of all, she taught all of us what unconditional love means.  She will be greatly missed by all who knew her.
In her working years, Betty did secretarial work. In retirement she was an avid volunteer with The Huntington Society, and Hamilton's Out of the Cold program. For years she enjoyed daily water exercises at the YWCA. She created beautiful works of art with her crocheted blankets and handmade Father Christmases. Her self taught upholstery skills were professional quality – between her curtain making and reupholstering of chairs and couches, she could have been an interior decorator. She was a person of many skills.
Special thanks to the staff at Aberdeen Gardens, and visiting wound care nurses, who took such good care of her in her last years.
Cremation has taken place. Due to the current COVID restrictions, a celebration of life will take place at a later date. Should you wish to make a donation in Betty's name, please consider  Mission Services of Hamilton https://mission-services.com/