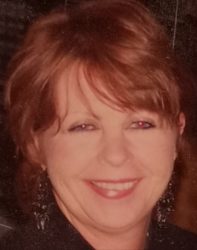 June 7, 1955 – December 23, 2018
It is with great sadness that we announce the passing of Diana Lynne Murray, age 63, on December 23, 2018 peacefully at her home in Dundas, Ontario. Lynne will be lovingly remembered by her sons Nathan (Nicola) and Brad (Ashley), her mother Verna, her brother Bill (Karen), her sister Kelly (Wayne), her niece Chantelle, her mother and father-in-law Bill and Alice, and her partner Ian.  She will also be forever remembered by her extended family and many dear friends. Lynne is preceded in death by her husband Mark and her father William.
Born in Camp Shilo, Manitoba, Lynne was the eldest daughter of William and Verna (Marshall) Laur. She spent her childhood in Lahr, Germany with her family and new found friends she affectionately called her "army brats", with whom she kept in touch her entire life.  After moving back to Dundas in 1973 and graduating from Parkside High School, she married Mark Murray in 1980 and raised her two precious sons.  After the death of her husband in 2009, she again found love and spent the last three years of her life with Ian Rockall.
She worked at Shoppers Drug Mart for 31 years where she displayed a wonderful ability to brighten the lives of her customers and colleagues.  Lynne truly lived life to the fullest, enjoying time with her family, friends, and animals while at home or travelling.  She will always be remembered for her selflessness, generosity and infectious laugh. The grace, dignity and strength she displayed during her illness remain an inspiration to those who carry her in their hearts. A special thank you to Ian for his loving care and support of Lynne during her final days.
Funeral services will be held on Saturday January 5, 2019 at 2:00 pm at Turner Family Funeral Home, 53 Main St., Dundas, Ontario.
Memorial donations in memory of Lynne can be made to the Juravinski Hospital and Cancer Foundation (Box 739, LCD 1, Hamilton, ON, L8N 3M8) or the Hamilton Burlington SPCA (245 Dartnall Road, Hamilton, ON, L8W 3V9).