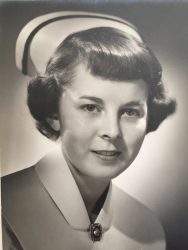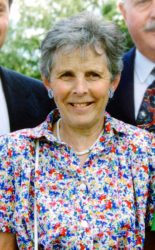 LENNIE, Jean Isobel (nee Honey)
Oct. 14, 1930 – Oct. 30, 2017
Jean died at her home, in Dundas, after battling esophageal cancer for over a year in the same clear, uncomplaining way she lived the rest of her life.  She was the eldest child of the late George and Margaret Honey of Fort Erie; beloved wife of Bob (2016) for over 64 years; mother of Ian (Lyne), Bruce (Sydney) and Alison; grandmother of Aidan (Gabrielle), Leif and Nina; Kristina and Andrew; Sarah, Patrick and Georgina; great-grandmother of Lars; sister of Lew (Julie), Margaret (Kent) and Wilma; cousin, aunt and great-aunt of many.
Hers was a life of support for others, begun early.  At age 12 she would ride her bicycle to Fort Erie train station, leave it leaning against a wall (unlocked), and board the train (unaccompanied) for Welland, where she would search deeds for her lawyer father.  After high school, she chose nursing, moving to Hamilton, beginning lasting friendships with several classmates, and graduating from Hamilton General Hospital School of Nursing in 1951.  She worked at the Mountain Sanatorium in Hamilton and for the Victorian Order of Nurses (VON) for a few years in the early 1950s, and then as a charge nurse at Blackadar Nursing Home in Dundas in the latter 1970s — and in between, raised a family.  She led the senior nursery program at St. Paul United's Sunday School during the 1960s and early 1970s, and served Meals on Wheels for over 20 years, stepping down five years ago when she and Bob moved into a retirement home.  For 17 years, she spent a few weeks every summer at Hall's Lake in Haliburton and enjoyed many memorable times there with friends and family.  She also considered herself fortunate to travel with Bob and their friends, on holidays throughout Europe and North America.  A latter trip to France, with her siblings and their spouses, visiting Paris and World War I historical sites, was especially meaningful — her father had fought in the war and her uncle had died doing so.
As a new mother, Jean diligently saved baby bonus cheques for seven years and then cashed them all at once to buy a piano, and found a wonderful teacher, Arlene Wright.  That no prodigies emerged from among her children was hardly the point; a basic understanding and love of music was.  You'll appreciate it someday, she'd say, and eventually we did.
Originally a mediocre cook, Jean evolved because she was interested.  Healthy ingredients were important but so too was the taste — that bread… a whole wheat that was actually subtle, moist!
She could not tell a lie and was literal in her egalitarianism — a book or a pair of socks oddly showing up in someone's Christmas present to ensure that the same amount had been spent on all.
Cautious, tolerant, she could also be subversive.  "No way, José," one of her grandsons, age two or three, said to his father who was trying to hustle him off in an unpopular direction.  "'No way, José?'  Where'd you get that?"  "Grandma!"  She would stretch before beginning her day, fluidly putting her palms on the floor, knees straight, into her seventies.
She sought, above all, harmony among those around her, and blamed herself when it was absent.  Even when bent and shrunken with osteoporosis, she shouldered the heavy loads, the emotional ones.  She loved the CBC, supported local music and other arts and culture, followed the Ticats and Raptors, preferred butter to margarine, encouraged all around her to drink more water.  She was a lifelong reader, a simple, huge fact.  And the religious faith that guided her was deeply felt, but worn lightly.  She was our exemplar.
The family is grateful for the extraordinary care provided by Dr. Ranjan Sur and his team at the Juravinski Cancer Centre, and by the palliative care team, nurses and PSWs of the Hamilton Niagara Haldimand Brant LHIN, as well as by Jean's two long-time family physicians: the late Dr. Don Whittier and Dr. Kanwal Shankardass.  Jean's nearest family member, sister Wilma, was devoted and so often at hand when others could not be.  Our gratitude goes out also to the helpful and considerate staff at Amica in Dundas.
Cremation has taken place.  Friends are invited to visit at the Turner Family Funeral Home, 53 Main St., Dundas on Friday, Nov. 3, 2-4 p.m. and 7-9 p.m.  Burial and funeral service will be private.
Donations to the charity of your choice to honour Jean's spirit of giving would be appreciated.