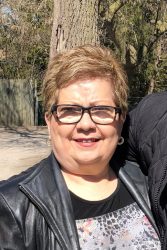 Rebeca Maceda, 69, of Dundas, Ontario, passed away December 30, 2020, in her home with her loving family by her side, after a difficult and short battle with cancer.
She was born to the late Emilio and Mercedes Estrada (Mariona) on October 2, 1951, in San Salvador, El Salvador.  She was married to the late Francisco Maceda and together, they uprooted a settled life with opportunities for themselves for the faint promise of a better future for their children in a country they knew nothing about.
Rebeca is survived by her three children: Ingrid Muschta (Estrada) and her husband, Michael Andrew Muschta, Rebecca Georgina Maceda Estrada and Francisco Alejandro Maceda Estrada; granchildren Samantha and Alexander Muschta, and her siblings Maria Esther Estrada, Rony Estrada, Oscar Emilio Estrada and Edwin Estrada. Rebeca was predeceased by her husband in 2012.
Rebeca was a true artist. Her creativity first blosomed in her native country of El Salvador as she became a talented and very sought after Make Up Artist. When she arrived in Canada, she sought to maintain that passion for colour and creativity by enrolling in a career as a Hairstylist. Rebeca was loved by many customers and she in turned loved people. She worked with well known salon chains such as First Choice and Great Clips in Ottawa, Cambridge and in the Hamilton-Burlington region. When she became a Grandmother, she wanted more flexibility in her life, and she started working as an independent. She became the resident hairstylist at Caroline Place Retirement Residence in downtown Hamilton. In her spare time, Rebeca also took her creative talents to teach herself how to paint with acrylics and oil paints.
Rebeca was a loving mother and grandmother. She loved to cook for her family. She would knit hats for all her children and grandchildren. She would be the first to donate her time and talents to support charities that were close to her heart. She loved trips to Niagara Falls, her most favourite place in the world.
Due to COVID restrictions, there will be no gatherings at this time. The family is planning for a Catholic Liturgy in the near future to celebrate Rebeca's life, when appropriate. You can contact the family for more information when available by emailing Ingrid at muschtaingrid@gmail.com.